Mountain
The diversity of the French regions and climates provides a fantastic range of resources. With six massifs to be explored, the various winter and summer sports to try out are numerous.To give just a few examples: hiking, skiing, rock climbing are available in this area.


(départements d'
Isère 38
, de la
Savoie 73
et de la
Haute-Savoie 74
)
Covered with thick snow for 4 to 5 months of the year,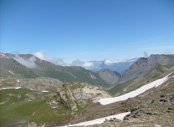 the Savoie region is an ideal destination for all types of winter skiing in the resorts around the Mont Blanc. Besides skiing, why not try out some other sports, such as cross country skiing, or hiking? As soon as weather warms up, a wide range of water or snow sports are available in Savoie. How do you fancy diving into Lake Annecy, or having a go at some of the water sports on offer at Lake Leman? In addition to the numerous hiking routes around the region, it is also possible to ski along the Mont Blanc glaciers during summertime.


(départements de l'
Allier 03
, de l'
Ardèche 07
, de l'
Aveyron 12
, du
Cantal 15
, du
Gard 30
, de la
Loire 42
, de la
Haute-Loire 43
, de la
Lozère 48
et du
Puy-de-Dôme 63
)
The huge and isolated area of the Massif Central guarantees vast open spaces. Stretching out from the Sancy resorts (note: the Puy of Sancy reaches an altitude of 1 885 meters) to the Loire springs, the Massif Central appears limitless and guarantees excellent skiing in a natural and preserved area. This is a favourite spot for cross country skiers or snow shoe hikers, and an opportunity to discover a land full of history going back to Neolithic times. The ancient Massif Central mountains house more than a hundred volcanoes which are definitely worth visiting once summer arrives. The region is renowned for its natural resources with its four nature parks, such as the Cévennes. As far as sport is concerned the possibilities are numerous: mountain biking, rock climbing, paragliding or canoeing. The region also prides itself in its rich heritage of castles and roman churches. up to you to take a look.


(départements de l'
Ariège 09
, de l'
Aude 11
, de la
Haute-Garonne 31
, des
Pyrénées- Atlantiques 64
, des
Hautes-Pyrénées 65
et des
Pyrénées-Orientales 66
)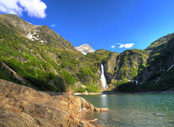 No less than two hundred and twelve of the Pyrenees summits reach an altitude of over 3 000 meters high. Stretching out over 400 kilometres from the Mediterranean to the Atlantic, the Pyrenees landscape is made up of peaks, cirques, lakes and valleys. It is also a meeting point for various cultures: Basque, Catalane and Béarnaise. For amateur downhill or cross country skiers and snow boot hikers, the Pyrenees region offers wide open spaces and 1 000 kilometres worth of marked out ski slopes winding through large snow covered cirques. It isn't unusual to spot an izzard, the Pyrenean mascot, unique to the area. In the summer, hiking is the main activity, and an opportunity to get your crampons on and follow the GR10 path, which traces the steps of the Saint-Jacques-de-Compostelle pilgrims, where you may even spot a marmot or a bird of prey. The Midi peak is renowned for its scientific research and remains to this day the emblematic symbol of the Pyrenees, an example of complicity between science and tourism.


(départements de l'
Ain 01
, du
Doubs 25
et du
Jura 39
)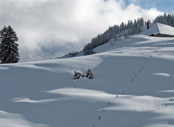 Isolated from the modern world the Jura mountains represent huge spaces stretching out over more than two thousand kilometres. The landscape is dotted with ski resorts best suited to cross country skiing, as this is a low altitude mountain range (up to 1 800 meters high). However, the vigorous winter guarantees heavy snow falls which cover the fir trees with a white blanket of snow. The small villages provide an ideal setting for lounging around in front of the fire enjoying the silence. During the summer months, the vast clearings, deserted in winter, provide an ideal area for wandering around and discovering the famous fir tree forests. It mustn't be forgotten that the Jura mountains is a cattle breeding area, and produces excellent cheese, full of character (Comté, Morbier.), just what it takes to wet your appetite. There are also 80 different waterways and 6 000 kilometres worth of rivers in the region, bringing a taste of the sea to the mountains. and an excellent way to freshen up in hot weather.


(départements des
Alpes-de-Haute-Provence 04
et des
Hautes-Alpes 05
, des
Alpes Maritimes 06
, de la
Drôme 26
, et du
Vaucluse 84
)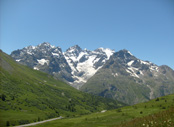 A few kilometers from the Mediterranean, rich with an exceptional nature, the Massif des Ecrins and Mercantour National Park and the peaks of around 4000 meters above sea level, the Southern Alps are the ideal site for both the skiing and hiking.
Snow, sun and altitude are here for successful winter stays in more than one hundred ski resorts.


(départements du
Bas-Rhin 67
, du
Haut-Rhin 68
, de
Haute-Saône 70
, des
Vosges 88
et du
Territoire de Belfort 90)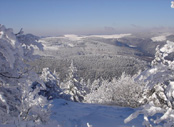 The Vosges mountain range is an area made for nature lovers. Every winter, the Vosges mountains welcome cross country skiers to its valleys, who enjoy its 200 kilometres of marked out ski paths. The resorts offer a relaxed and friendly atmosphere where alpine skiers will be thrilled to discover the Bress ski resort which offers night skiing for its visitors. And of course, don't forget, the famous science fiction film festival of Gérardmer. For the summer months, the region offers numerous hiking or walking routes among forests and lakes where you can fish the famous trout of Vosges. Why not make a detour to Contrexéville or Vittel to taste the recommended spa water and try out the spa treatments. If you are into more sporty holidays, you can always have a go at some of the aerial sports on offer such as paragliding, hand-gliding, or hot air ballooning.