Monaco's oceanographic museum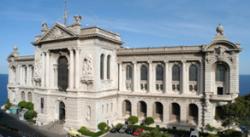 Monaco's oceanographic museum
Avenue Saint-Martin
98000
Monaco
Tel.: + 377 93 15 36 00




Description
Founded in 1910 by Prince Albert I of Monaco, the Oceanographic Museum is a unique place dedicated to the sea. Its mission is to develop and disseminate to a wider audience Oceanography through the historical collections of Prince founder, the permanent displays and temporary living collections of his aquarium.



The Oceanographic Museum is open year round except the day of the Formula 1 Grand-Prix


January - February - March : 10:00 AM - 6:00 PM

April - May - June : 9:30 AM - 7:00 PM

July - August : 9:30 AM - 7:30 PM

September : 9:30 AM - 7:00 PM

October - November - December : 10:00 AM - 6:00 PM

Website

Nearest hotels - Monaco's oceanographic museum :


(Distance < 1 km)Info:
Téléphone, Pay TV, Paystation, Chaine HIFI, Accès internet, WIFI, Sèche cheveux, Fer à repasser, Coffre fort, Mini-bar, Chiens admis, Climatisation, Double vitrage. ...



(Distance < 1 km)rooms ranging from
: 79.00 Euros
Info:
téléphone,télévision,câble/ satellite,climatisation,mini-bar, coffre fort, sèche cheveux...



(Distance < 1 km)Info:
Discover new harmonies ... Explore unknown sensationsInaugurated in September 2003, the first Boutique Hotel in Monte Carlo looks majestically over the prestigious Monte Carlo Marina.The newly built Port Palace is here to reveal the Monaco ...



(Distance < 1 km)Info:
The Fairmont Monte Carlo is a unique four-star luxury convention resort located in the heart of the Principality of Monaco in between the Mediterranean Sea and the legendary Casino of Monte Carlo. The hotel is one of the largest in Europe with its 602 ...



(Distance < 2 km)rooms ranging from
: 199.00 Euros
Info:
Located beside the marina in Cap-d'Ail, this 4-star hotel features an outdoor pool and a fitness centre. It offers elegant guest rooms, most with a private balcony and sea views.
All air-conditioned guest rooms are equipped with a......