Abbaye de soissons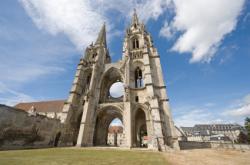 L'abbaye Saint-Jean-des-Vignes s'élève comme une flèche du cœur de la ville de Soissons. Elle est le monument le plus remarquable de la ville.



Construite en 1076 par Hugues LeBlanc, un grand seigneur de la région, l'abbaye de Soissons obtiendra très vite une grande renommée. Au XIIe siècle, cette dernière est très réputée, on décide donc d'y faire des travaux pour la ré-aménager et l'agrandir. Les nouveaux bâtiments seront construits avec les pierres de l'ancienne église romane qui se trouvait précédemment sur les lieux. Le style architectural choisit sera le style gothique.

Plus tard, suivront d'autres travaux qui visent à protéger l'abbaye, on y construit des fortifications en 1359 puis, pendant le XVIIe siècle, on les intègre aux murs de protection de la ville entière car l'abbaye était trop à découvert et isolée.

C'est donc un superbe monument qui naîtra de ce projet, il reflète la puissance de ce centre monastique qui était au Moyen-Age, l'un des plus riches de France.

Malheureusement, la renommée de l'abbaye et son aura vont lentement décroître, jusqu'à ce qu'en 1805 on décide de la détruire et de se servir des pierres pour restaurer la cathédrale Saint-Gervais-et-Saint-Protais. Les vitraux et les ferrements seront vendus, certaines pierres le seront aussi et serviront à construire des maisons à Soissons. Après une vingtaine d'années de travaux, les pierres se vendent mal et la démolition est arrêtée, cela sauvera la façade ainsi qu'une partie du cloître, le cellier et le réfectoire.

En 1875, l'abbaye est classée parmi les Monuments Historiques.

Aujourd'hui, dans ce qui reste de l'Abbaye de Soissons, il est possible de visiter le centre départemental d'archéologie. L'impressionnante façade sans fond est néanmoins restée l'un des symboles de la ville.
Author : Amandine©

Nearest hotels - Abbaye de soissons :


(Distance < 1 km)rooms ranging from
: 42.00 Euros
Info:
In the heart of Soissons, 40 km from Compiègne, Hotel le Rallye offers non-smoking accommodation, a bar, and private parking is available an additional cost.
The rooms at Hotel le Rallye feature a flat-screen TV. Some of the rooms have......



(Distance < 2 km)rooms ranging from
: 39.00 Euros
Info:
Situated in a business area on the outskirts of Soissons, this friendly hotel offers affordable accommodation in a convenient location, easily accessible from the E46/N31 motorway and other major roads.
Campanile Soissons is ideally......



(Distance < 2 km)Info:
Between Paris and Picardie. Easily accessible from the N2, our hotel is a few minutes from the centre of Soissons and less than an hour from Paris and Parc Asterix and Disneyland Paris.
All the rooms come with a work area, an en suite......



(Distance < 4 km)rooms ranging from
: 31.00 Euros
Info:
Hotel Class'eco is situated in Crouy, just 5 km from central Soissons and 30 km from Laon. The hotel offers a free Wi-Fi internet access, a 24-hour reception and simply decorated rooms.
The guest rooms at Hotel Class'eco feature a TV, a......



(Distance < 5 km)rooms ranging from
: 75.00 Euros
Info:
Set in a private house with a large, tree-lined garden, La Carrière l'Evêque is located in Septmonts, 5 km from Soissons. The site features a renovated farmhouse that is classified as an historical monument.
The spacious guest room is......