Description
In the heart of Touraine, between Chinon and Tours, stands on an island in the Indre, the castle of Azay le Rideau.
Originally built in the early 12th century, it was destroyed in the 15th century and rebuilt during the reign of François 1st.

History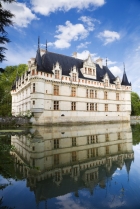 In 1119, the lord Ridel Azay built the first castle of Azay le Rideau, to protect the road from Tours to Chinon.
But during the war of 100 years, the castle knew dark moments during the stay of Charles VII at Azay. A battle between the King and the Burgundian troops caused the execution of more than 350 soldiers and the burning of the castle.
It was not until the arrival at the head of the kingdom of François 1st to see its reconstruction with Gilles Berthelot, Mayor of Tours and Treasurer of the King, who began the works in the 1520s.
But again, it is not a good time for the castle of Azay le Rideau. Gilles Berthelot's cousins, the Semblançay family, lent money to Louise of Savoy to pay the ransom and release François 1er from Spain. On his return to France, the king accused Jacques de Beaune-Semblançay of embezzlement and sentenced him to death.
Berthelot took fright and fled to Metz, leaving the work in state.
Confiscated by the king in 1523, it was given to one of his followers, Antoine Raffin, who occupied it only 20 years later. During the war of religions, the granddaughter of Antoine Raffin, Antoinette took refuge at the castle of Azay le Rideau and gave it back its greatness.
But the French Revolution brought new changes to Azay le Rideau. Degraded and abandoned, the castle was sold to Charles de Biencourt in 1791. He then gave it its current style.
In 1840, the castle of Azay le Rideau is listed in historical monuments. It had been subsequently occupied for several weeks by Prince Frederick Charles of Prussia.
The crash of the General Union stock market in 1882 forced Charles-Marie Christian, the new owner to sell the castle to a businessman who decided to sell the furniture, the artworks and the art objects of the Castle.
Unoccupied until it was purchased by the state in 1905, the castle of Azay le Rideau is classified as an historic monument in 1907 and is now managed by the National Monuments.

Architecture


Initially resembling a fortress, the castle of Azay le Rideau had its appearance changed over the centuries and its many owners.
The corner turrets and the Middle Ages walkway have been removed by the Biencourts and replaced by two towers and a landscaped park.
A monumental Italian style staircase was built in the main castle and gives directly onto the outside and the castle park. Columns, pilasters, medallions adorn the outside of the castle of Azay le Rideau.
The interior is equally extraordinary. A library decorated with wood paneling and painted canvas and embellished with a beautiful fireplace, a lounge decorated with stained glass and royal portraits ... The grand ballroom is certainly the richest in terms of tapestries.

Visit
Azay le Rideau is one of the monuments of the Loire Valley to discover first.
It is open to the public year-round and sound and light shows are held during the summer.
The tour is free forchildren and there are discounts forgroups and school groups. An audio tour guide is possible in order to visit this not to be missed building at your own pace.