Description
Chateau de Blois


The castle of Blois is located in the department of Loir-et-Cher in the Centre.It is one of the famous castles of the Loire. During the Renaissance, kings of France made it their favorite residence. Its characteristic is to be positioned in the center of the city of Blois, on the right bank of the river Loire.All the different periods of French architecture from the Middle Ages to the Classical period are represented in the castle.
The Chateau de Blois is the true gateway to the castles of the Loire. Restored in 1845 as a historic monument, it is thus a model in this regard. With its 30,000 works and labeled Museum of France, the Chateau de Blois offers tours in various sumptuous royal apartments decorated with its Museum of Fine Arts and various and continually renewed exhibitions.

The castle of Blois : a section of the History of France
The Middle Ages


The history of the castle of Blois strongly intertwined with the history of France. At the center of the territory of powerful feudal lords of the Middle Ages, the Counts of Blois, this fortress was attacked by the Vikings in 854. Expanded and rebuilt by the lineage of the Counts of Blois during the following centuries, the castle was sold in 1392 to Louis of Orleans and spent under the thumb of the Kingdom of France. In the early 15th century, war between the Burgundians and the Orleans allowed the English to reinvest the French territory. Louis d'Orleans, a prisoner at the Battle of Agincourt had stayed captive forover forty years. Back in his fiefdom, he reinvests the scene and set up a cultural center while transforming the castle to make it more habitable to use it as his principal residence. All that remains from this period is the great hall and the cylindrical tower.

Renaissance
The castle of Blois became permanently a royal residence at the accidental death of Charles VIII in Amboise. His cousin, Louis II, grand-son of Louis of Orleans and owner of the castle, became king of France in 1498 under the name of Louis XII. During his reign many celebrations, weddings, treaties and plots were organized. On the death of Queen Anne of Brittany, Louis XII offered the county of Blois to his daughter Claude de France and made her marry Francis of Angouleme, heir of the Kingdom of France. Francis 1st, until the death of his wife built new buildings including a wing of the castle, the famous spiral staircase and the refurbishment of the Salle des Etats.

The Old Regime
Symbolic place in the history of religious wars in which the Duke of Guise, leader of Catholics, was murdered by Henry III, the castle saw later the exodus of the royal court. Some attempts to construct and expand were unsuccessful. Several exilesbrought life back in the castle. But Louis XVI, for financial reasons, permitted the resale of the castle to potential buyers.
Without a buyer, the castle of Blois was saved in 1791 by hosting the 73rd Infantry Regiment de Ligne. During the 19th century a succession of rearrangements whose very pragmatic purpose was to facilitate the life of the soldiers were made. The architecture mistreated during the French Revolution was severely deteriorated.
Fortunately the romantic period saved the castle with conservation policies. Thus in 1840, the castle of Blois was made a historical monument and the first wing Francis was returned to the city of Blois, which made a museum of Fine Arts with it. Finally it the castle was fully restored to civil administration and opened to the public only in 1867.

The castle of Blois concentrates architectures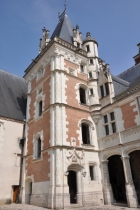 Felix Duban appointed by the Historical Monuments Commission was the great architect of the restoration of the castle of Blois. He opted to retain the old architecture while recreating the interiors. At his death, the castle had returned to what it was in the sixteenth century.
Anatole de Baudot succeeded him for the second restoration (1880-1913). He worked on technical aspects : structures, drainage of rain water, metal beams, etc.. Several architects contributed to the renovation then to the repairs due to World War II.
A new restoration was made in 1990 under the leadership of Pierre Lebouteux and Patrick Ponsot. It concerned roofs, floors and exterior facades.
Eventually the castle of Blois represents four different architectural periods. The gothic period is represented in the East by the Louis XII wing built of bricks and stones. This part is occupied by the Museum of Fine Arts and is extended by the Saint-Calais chapel, which is characterized by the beginnings of Italian influence. In the North, this is the François Ist wing, famous for its monumental staircase, a masterpiece of the Renaissance. The wing includes the royal apartments with furniture from that time. It is a mix between French tradition and Italian culture. To the west is the classical wing designed by François Mansart in the 17th century. The remarkable specificity remains the creation of the impressive staircase with nested domes, a masterpiece of classical architecture.
Finally, recently (2007), restoration of 8000 sq painted murals had been the largest work of its kind ever dared.

The castle of Blois, visit it cannot be missed !
The castle of Blois is full of exhibitions throughout the year and esposes beautiful creations in its Museum of Fine Arts. Plays, lectures, debates, seminars, conferences, all events in such a place of art and history, are conceivable. The sound and light shows valuenarchitectural wonders of the castle and become magical moments. Finally, the welcome of tourists in an international site is of high quality.
Desire to travel in the past, passionate about history and architecture, the choice of cultural tourism in the castle of Blois is the ultimate good idea. If you want to visit a page in the history of France, the Chateau de Blois is the right place to go!
Website