Castle of cheverny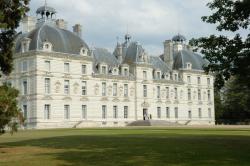 Description
Château de Cheverny


The Chateau de Cheverny is located in Sologne, in the town of Cheverny in the department of Loir-et-Cher. Listed as historic monuments in 1926, he joined the series of castles of the Loire. Anecdotally, it has inspired Hergé to his castle of Moulinsart.

The château de Cheverny, a family saga


Cheverny Castle has the distinction of having belonged to the same family since its construction in the 16th century except for two episodes. Landowner, the family Hurault served several times the kings of France and operated in the financial and military areas.
Diane de Poitiers stayed there for a while as chatelaine especially after having been rejected by Catherine de Medicis from the castle of Chenonceau. The second time the castle of Cheverny escaped the Hurault coincides with the disinterest of direct descendants who sold it to retrieve the monument in 1825.
During the French Revolution, the Château de Cheverny received the protection of Jean Nicolas Dufort de Cheverny, introducer of Ambassadors. It was then saved by the diplomat from the Revolution.
Today the castle is inhabited in its right wing by the Marquis and Marchioness of Vibraye, owners and descendants of Huraults. The castle knew only three days of closure since 1922 when it was opened to the public: during the visit of the Queen of England in 1963, at the funeral of Marquis of Vibraye in 1976 and during the wedding ceremony of the current couple in 1994.

The château de Cheverny, wealth of decorations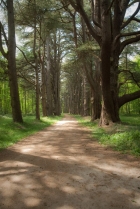 The present building was mainly built during the period 1624-1634 at the time of Count Henry Hurault and his wife Marguerite Gaillard of Morinière. Evidence of this idyll are marked with the initials H and M intertwined. From the fortress in 1500, only a few remnants can be found in the commons.
The interior decoration is to be initiated by the Marquise de Montglas, daughter of the former couple, who asked some artists such as Jacques Bougier to participate. He worked for the castles of Blois and Chambord. He used the Bourré stone, local resources of the Cher Valley. Solid, this type of stone is more consistent that the tufa of the Loire Valley and has the specificity to lighten over time. Interior design, real main attraction of the castle of Cheverny, was primarily the work of Jean Monier, a protégé of Marie de Medicis, who enabled him to establish his art in Italy. He applied his knowledge and talents on the Château de Cheverny when he came back to his native land of Blois. Jean Monier is the author of 34 painted wood panels arranged on the walls of the dining room. They represent the story of Don Quixote. King's chamber and weapons room contain many very impressive objects such as the Boulle Louis XIV chest of drawers , the famous Gobelins tapestry or the canopy bed which Henry IV slept in.

The château de Cheverny, many attractions


Outside, the castle of Cheverny delights with its orangery, its carved facades, its kennel and fencing. You will also cross an amazing park, with lawn as beautiful as in the greatest golf course. It will lead you to the English style park and then later to the kitchen garden or forest park. Rides in electric cars or boats are available for a unique experience.
Since 2006, the Chateau de Cheverny has a contemporary ornament garden. Between English and French traditions, it focuses on geometry. Visitors can observe the interplay of forms and colors that emanate from this garden planted with 10,000 bulbs!
The tour may continue along the canal along the Forest Park or in the room dedicated to the adventures of Tintin, Hergé having been inspired by this place to create the Moulinsart castle.
The castle of Cheverny provides a range of attractions that will appeal to all types of tourists.

Nearest hotels - Castle of cheverny :


(Distance < 1 km)rooms ranging from
: 72.00 Euros
Info:
Chambres fumeurs et non fumeur, satellite / Canal+, Double vitrage, Sèche-cheveux, Terrasse privative, Téléphone, Télévision...



(Distance < 2 km)rooms ranging from
: 150.00 Euros
Info:
Located just 800 metres from Château de Cheverny, Relais des Trois Châteaux offers a garden, terrace, bar and restaurant. Both Blois and Chambord Castles are situated 15 km from the hotel.
All rooms are air-conditioned and feature a......



(Distance < 3 km)rooms ranging from
: 84.00 Euros
Info:
Set in a 5-hectare park, Ferme des Saules is a guest house located 2 km from the Château de Cheverny and 20 km from the Château de Chambord. It features an outdoor swimming pool.
The spacious guest rooms at Ferme des Saules feature......



(Distance < 4 km)rooms ranging from
: 60.00 Euros
Info:
This countryside hotel is 7 km from central Contres and a 20-minute drive from Blois. It features rooms with views of the hotel's private garden and a small pond.
Each soundproofed room at the Hotel de Cormeray has free Wi-Fi, a TV and......



(Distance < 5 km)rooms ranging from
: 150.00 Euros
Info:
Château du Breuil is situated in the heart of the Loire Valley at short distance from Cheverny, it is above all a place where you're greeted like an expected guest.
Chateau de Breuil offers individually decorated and comfortable rooms......