Royal amboise castel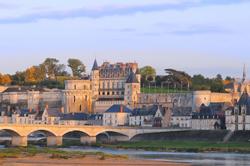 Description
One of the largest sites of Val de Loire is a new challenge: creating an innovative tour to the public hearing impaired.

The Underground to the terraces, an expert guide, will tell with his hands, the rich history of the Royal Castle of Amboise.
Three Saturdays are planned well in spring which may announce the beginning of a long series of visits, if the public is by appointment.

Entering the Logis Royal, visitors discover the ancient kings of apartments France, important collections of furniture and pieces of exceptions.
After the procedure, it will be possible to discover the depths of the castle via the masterful Tour des Minimes.
Coming down the ramp rider that surrounds the nucleus, the graffiti carved on the walls reveal the hidden face of the old fortress.
The highlight of the visit, the core of the tower looks like a lantern of pierced windows regular ogival shape over three floors huge spiral.

Flooded by daylight, she expresses all her splendor. One is struck by its vastness, over 30 meters high and the purity of its architecture.
This perceived curiosity, exploration continues in the underground, carved into a rocky outcrop, holds a number of historical relics and architecture.
The course ended, young Mediterranean gardens overlooking the Loire Valley and invite visitors to walk a fine recreation.
Website

Nearest hotels - Royal amboise castel :


(Distance < 1 km)rooms ranging from
: 95.00 Euros
Info:
Situated in a building typical to Amboise, Villa Roma is ideally located in the city centre. Just opposite the Michel Debré square, this guest house offers a covered patio and a terrace.
Combining contemporary décor and renovated period......



(Distance < 1 km)Info:
Situated in the centre of Amboise in the Centre region, this hotel is just 50 metres from Château d'Amboise. It offers a terrace and a lounge bar.
Each of the soundproofed guest rooms at Hotel Belle-Vue is equipped a flat-screen TV and......



(Distance < 1 km)Info:
Set in a 17th-century townhouse, this luxury B&B is in the historic district of Amboise. All of the guest rooms have free Wi-Fi access and a panoramic view of the Château Royal or of the Loire River.
The spacious guest rooms at Chambres......



(Distance < 1 km)Info:
Located 350 metres from Château d'Amboise and 280 metres from Église Saint-Florentin, Studio Les Fleurons is an elegant self-catering apartment which features wooden furniture and a chandelier.
You can admire the view of Château......



(Distance < 1 km)rooms ranging from
: 64.00 Euros
Info:
Situated a 5-minute walk from Château d'Amboise, close to the Loire River, this self-catering cottage offers free Wi-Fi and free private parking. The property is ideally located for visiting the Loire Castles.
Gîte du Quai des Marais......