Collegiate church of our lady of the assumption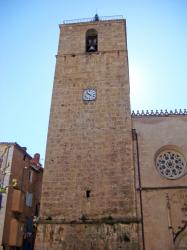 Description
The church of Our Lady of the Assumption was built in 1014. It is therefore one of the oldest church in the Diocese. In 1060, it became a college thanks to Pope Alexander II, as the Notre-Dame-de-l'Épine.
The college was renovated several times. In the thirteenth century, the choir and the chevet were rebuilt, and in the sixteenth century the collaterals were rebuilt. The nave is 43-meter long and 9-meter wide. Its backbone is 15.4 meters high. The nave, was also renovated in the sixteenth century.

The collegiate Church of Our Lady of the Assumption was listed as a historical monument on several occasions between 1912 and 1979, both to protect the building and for its exceptional treasures. Indeed, within the college, there is a drum dating from the thirteenth century and a carved wooden stalls dating from the sixteenth century that illustrate scenes from the Bible. There is also an exceptional organ dating from the sixteenth century (renovated in 1987) involved in giving a special sound in the college, unmatched in the region.

Two other treasures are present in this college, we can discover an Van Loo painting of the Virgin representing infant Jesus, which has a very high value, and a reliquary bust that houses a Saint Marcel phalanx, which was saved from the flames of the pyre by an old barjolaise in 1562.

Nearest hotels - Collegiate church of our lady of the assumption :


(Distance < 1 km)Info:
Located in Barjols in southeastern France, this B&B is set in a Provençal-style building with a tiled roof. A 20-minute drive from St-Maximin, it features a garden and free Wi-Fi access throughout the property.
With elegant décor and......



(Distance < 1 km)rooms ranging from
: 36.00 Euros
Info:
An apartment for 4 people in the typical Provence village of Barjols. close to the great Verdon canyon and lakes. In the heart of the country. in 36 hectares of parkland bordered by a forest. this 60 m2 apartment can accommodate 4 people and boasts......



(Distance < 5 km)Info:
This house is located on a walking distance from the Provencal village Tavernes with her bakery, small super Market, cafe and restaurant. In 2 km you can find the lively center of the town Barjols with it's rich history and it's architecture that......



(Distance < 10 km)rooms ranging from
: 225.00 Euros
Info:
This property is an 8-minute walk from the centre of Correns, the first organic village in France. It offers self-catering accommodation, an outdoor swimming pool and a garden. Free Wi-Fi is available.
Le Clos des Sources has 2 duplex......



(Distance < 10 km)rooms ranging from
: 75.00 Euros
Info:
Terrasse, Restaurant Climatisé, ......