Ecomusée de la montagne noire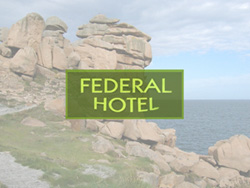 Collections en partie acquises par l'association ecomusées de 1983 à 1995, pour valoriser les différents savoir faire locaux. A partir de 1995, le projet scientifique et culturel s'est recentré sur le textile . Depuis acquisition d'objets , machines et archives liés à cette thématique.


Services - Ecomusée de la montagne noire
photothèque ouverte au public services commerciaux : cafétéria


Themes of collections - Ecomusée de la montagne noire
Arts décoratifs : Textiles Autres collections : Archives papier Ethnologie : Métiers et Outils Histoire : Histoire locale et régionale Sciences et techniques : Industrie


Architecture - Ecomusée de la montagne noire
Le musée est implanté dans une ancienne manufacture de textile de la fin du XIXe, avec une verrière très ajourée sous laquelle sont présentées les métiers à tisser (utilisation d'origine de cet espace).Cette ancienne manufacture etait situé à proximité d'une rivière, le Thoré, afin d'utiliser l'energie hydraulique et pour netoyer et laver les laines


Main interests - Ecomusée de la montagne noire
Situé au coeur du parc naturel régional du Haut-Languedoc, le musée évoque l'histoire du textile au XIXe dans la vallée de la Thoré, avec des objets et des fonds d'archives d'entreprises provenant des industries textiles locales.


Equipments - Ecomusée de la montagne noire
Ascenseur aux normes handicapés Toilettes aux normes handicapés


Activities - Ecomusée de la montagne noire
exposition(s) temporaire(s) visites guidées : générales, thématiques conférences


Schedules - Ecomusée de la montagne noire
du 1er mai au 31 octobre 10h/12h 14h/18h. Du 1er novembre au 31 mars 14h/18h. Fermeture annuelle : Mardi, et du 21 décembre au 31 janvier Ouvert toute l'année : Oui


Rates - Ecomusée de la montagne noire
- Réduit : (groupes de 10 personnes, passeport intersites TARN, étudiants) - Gratuité : (tous les premiers dimanche de chaque mois,amis de musées, scolairesTarn,)


Tourism information - Ecomusée de la montagne noire
Access : Parc de stationnement (pour voitures et autocars)
Sites to see : Grottes de la Devèze à Courniou (34). Musée de la préhistoire à St Pons de Thomières(34). Maison du bois et du jouet à Hautpoul (81).


Nearest hotels - Ecomusée de la montagne noire :


(Distance < 1 km)rooms ranging from
: 54.00 Euros
Info:
This B&B is located in an 18th-century building in Haut Languedoc Natural Regional Park. Les Tisserands features a large garden with sun loungers and a furnished patio with BBQ facilities. Free Wi-Fi access is available.
Each room has a......



(Distance < 5 km)rooms ranging from
: 75.00 Euros
Info:
Demeure De Flore is a restored 19th century mansion in Lacabarède, 35 kilometres from Castres in the Languedoc region. De Flore is on 2 hectares of park and has a swimming pool.
Some of De Flore?s rooms feature a balcony with a view of......



(Distance < 7 km)Info:
Located in a quiet place . this small stone house is a renovated old nut-dryer. It s located in the Parc Naturel Régional du Haut Languedoc where you can enjoy long walks.The house offers charm in its simplicity and its location near a stream in the......



(Distance < 10 km)rooms ranging from
: 40.00 Euros
Info:
Located in Saint-Pons-de-Thomières, Chambres d'Artenac is a 5-minute walk from the cathedral and 12 km from Rieussec. It offers a furnished terrace and a shared seating area with free Wi-Fi access.
Rooms are simply decorated and feature......



(Distance < 11 km)Info:
Here is a score for a pretty shepherdess. Let's start slowly with the six delicately decorated rooms and suite. The tempo increases with the terrace overlooking the orchard and river. A moment of silence : the art gallery. And finally, we reach a crescendo ...