Eglise rupestre de vals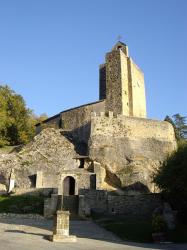 Description
The cave church of Vals is an amazing building built on three levels, during three different times. This ancient monument is perhaps the oldest in the region since remains from the Bronze Age were had been found there. The fortified church looks like an abandoned castle but contains great treasures, including paintings from the early twelfth century representing the Annunciation, the Nativity, and the parousia.
The base level of the Church of Vals was built in a cave. We reached the first level built of a mixture of natural stone and masonry construction by 23 steps. There is a small chapel and the apse with its high arches (the flare is beyond a semicircle). The oldest part of the nave dates from lower pre-Romanesque, so it is more than 1000 years old!
The precious frescoes dating from the early twelfth century were found in this part. They have been discovered only in 1952 by Father Durant. Reminiscent of the Catalonian style, they are also influenced by the style of the Master Pedret's workshop. These frescoes were very well restored. Today they are a treasure and a very good indicator of the art of the Romanesque period.
Author : Amandine©

Nearest hotels - Eglise rupestre de vals :

(Distance < 3 km)Info:
Set in a 19th-century farm house, this B&B is located in Rieucros. Guests can swim in the outdoor swimming pool, take a walk in the 13-acre park surrounding the property or fish by L'Hers River.
All the uniquely decorated rooms at......



(Distance < 7 km)Info:
Located in a wooded park, 10 km from medieval Mirepoix, 20 km from Foix and 30 km from Montségur Château, this B&B is set in a 19th-century building. Homemade bread and jam are served for breakfast and you can borrow bikes.
An electric......



(Distance < 9 km)rooms ranging from
: 120.00 Euros
Info:
Housed in a former château, this guest house is located in the Midi-Pyrénées region and 15 km from Pamiers. It offers free Wi-Fi access in public areas, a garden and an outdoor swimming pool.
All the heated rooms at Château de Gargas......



(Distance < 10 km)rooms ranging from
: 54.00 Euros
Info:
This family-run hotel is located in the heart of the medieval town Mirepoix, in Cathar country. It offers affordable rooms with free Wi-Fi internet access.
Le Commerce has its own restaurant, which serves traditional local cuisine.......



(Distance < 10 km)rooms ranging from
: 62.00 Euros
Info:
Set on a 4-hectare property, Chambre d'Hôtes La Vernoune is 8 km from the centre of Montaut and 6 km from the A66 motorway. It offers free W-Fi access, an outdoor swimming pool and a terrace.
Rooms and suites feature a desk, wooden......