Feudal castle of grimaud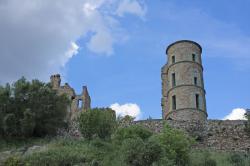 Description

The Grimaud Castle appears in the texts for the first time in 1119. At that time, it belonged to the Viscounts of Marseille. During the next five centuries, it will go from hand to hand, before being dismantled on Mazarin's orders in 1665. In the late 17th century, the land belonged to the family of Castellane-St-Juers who restored the castle and made it more comfortable. Unfortunately, in 1791, the castle was dismantled again by the revolutionaries.

In 1928, the ruins of the castle were listed historical monuments in order to protect them. At that time, restoration work began to strengthen the castle. After this work, the castle was listed historical monuments as well.

Today, the owner, the Earl of Senard, wants to promote the cultural aspect of the castle and has made ​​it available to the municipality. To go a little further, he built a performance area where concerts are held, particularly the Grimaldines (a festival of world music) during the summer.

Nearest hotels - Feudal castle of grimaud :


(Distance < 1 km)Info:
Situated 1 km from the centre of Port Grimaud in the Saint-Tropez Gulf, Azur Beach offers self-catering accommodation with air-conditioning. Free public Wi-Fi access, a hot tub, hammam and fitness centre are also available at the resort.



(Distance < 1 km)rooms ranging from
: 83.00 Euros
Info:
Mas le Chêne is located in Grimaud, just 2 km from Port Grimaud and 7 km from Saint-Tropez. It offers studios, which feature a private entrance, a flat-screen TV and a terrace area with a BBQ.
Homemade jam, freshly baked bread and......



(Distance < 1 km)rooms ranging from
: 45.00 Euros
Info:
This is a 3-room semi-detached house 80 m2 on 3 levels. The living/dining room has an open fireplace, dining table and TV. Open kitchen (oven, dishwasher, micro wave). On the lower ground floor: with shower/WC. Upper floor: 1 room with panoramic......



(Distance < 1 km)Info:
Located 5 km from Port Grimaud and the sea, Ancie offers 2 heated swimming pools, a landscaped garden and a furnished, sun terrace. All of the accommodations feature a private terrace and a refrigerator.
The air-conditioned......



(Distance < 1 km)Info:
Housed in a typically Provencal building set deep in the Mediterranean countryside and surrounded by a hectare of grounds, Athenopolis offers charming, individually decorated rooms with air conditioning.
The rooms at Athenopolis feature......