Description
This architectural masterpiece of the nineteenth century stands in the heart of Pertuis, between the islands of Oleron and Aix. Built originally to keep the mouth of the Charente and the Rochefort arsenal, Fort Boyard never had a great militarydestiny. Remained intact, it became, 133 years after its construction, an open television studio, especially for the "Fort Boyard" show.
Construction of Fort Boyard, a turbulent history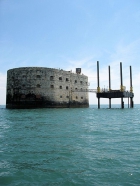 The idea to build a fort protecting the city of Rochefort dates from the seventeenth century. However, it was not until a century later, after the sack of the Aix island by the English , that an actuel construction project was born: a rectangular stronghold with cannons on three sides. However, the project was too expensive and France was at war. Therefore the construction did not start.

In 1801, Bonaparte, who was then consul, validated a new project and a base camp was located on the Oleron island. The foundation stone was laid in 1804. The work was very difficult. Storms, capsized ships and multiple English attacks hinder the work's progress. In 1807, after several unsuccessful attempts, a new foundation was built. However, the mass of the building was so heavy that it sank into the sand... After all these accidents, the fort's construction was stopped.

28 years later, France being at peace and richer, a commission checked the fort and found that the foundations have only sunk by a meter. The Department of Marine then proposes a new project which was validated in 1841. Work resumed and the foundations were completed in 1848 (44 years after the foundation stone was laid). The submerged part of the fort, for its part was built much faster, in only 8 years.



Finally the fort never played its role as a protector since at that time France was allied with England and the cannons could now shoot much further and could defend Rochefort from the coast. Fort Boyard then became a prison and a monitoring station for torpedoes until the State abandoned it completely in 1913 and put it on sale in 1962.


Fort Boyard second life
In 1989 the General Council of Charente-Maritime bought the stronghold to give it a second life. After some renovation work and cleaning, the fort was visited by producers of France 2 television channel in order to organize a large game show.

In 1990, the first "Fort Boyard" television show was broadcast. The goal was simple, a candidate team had to overcome various challenges to win a treasure.

Since 1990, the show "Fort Boyard" have been broadcast each year on television channel France 2 and in thirty countries around the world. It developed tourism in the Charente-Maritime and maintain the fort.
Fort Boyard is not open to the public but many boat trips around it are organized. They offer a good perspective to see this remarkable building.
Copyright photo : Fabien1309©
Website
Author : Amandine©