Goethe memorial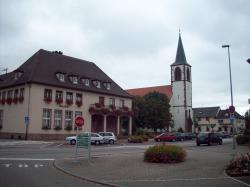 Description
Sessenheim, Alsace, owes its fame to the poet, writer, art theorist and statesman Johann Wolfgang von Goethe.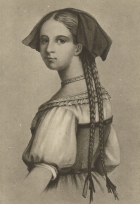 In 1770, Goethe, aged 21, a law student at Strasbourg, visited with a friend the pastor Brion. He met Frédérique, the Pastor's daughter, aged eighteen, and immediately fell in love. This idyll, which lasted between 1770 and 1771, is recounted in their exchange of letters, and his autobiography Dichtung und Wahrheit. The object of his love is described as "the most charming star of the country sky". This romance also inspired him Sessenheim Lieder with the poems Willkommen und Abschied, Maifest, Erwache Friedericke or Heidenröslein.

Sessenheim seems designated to receive the memories of the romance between the German poet who had a strong influence in European intellectual life of the time and the daughter of the local pastor. In 1961, a former imperial style guardroom built in 1820 has been transformed to accommodate the Goethe memorial. The building is home to numerous documents testifying of Goethe's life: his studies in Strasbourg, its intellectual ties with France and its development related to his poetic romance in Sessenheim. The Goethe memorial also includes a copy of the sculptured bust by David d'Angers surrounded by quotes from the poet, or authors such as Napoleon and Paul Valéry.

The Goethe memorial is a real pilgrimage for fans of the author of Faust.
Photo: © Frachet
Author : Bérengère©

Nearest hotels - Goethe memorial :


(Distance < 11 km)rooms ranging from
: 52.00 Euros
Info:
The Hotel le Verger de Bischwiller is situated in Bischwiller in Alsace. It offers comfortable rooms for 1 to 3 people and a traditional restaurant.
All of the rooms are equipped with flat-screen TV and free Wi-Fi internet access......



(Distance < 13 km)rooms ranging from
: 60.00 Euros
Info:
Open 7 days a week, L'Ermitage offers a peaceful setting, a warm welcome and 14 spacious and snug rooms and suites. It presents the ideal backdrop for your Alsatian holiday.
Blending modern amenities and traditional architectural......



(Distance < 13 km)rooms ranging from
: 79.00 Euros
Info:
The Champ Alsace is situated near l'Aérodrome de Haguenau, 30 kilometres north of Strasbourg. It offers individually-themed rooms with air-conditioning, flat-screen cable TV and free Wi-Fi.
The Hotel Restaurant Champ Alsace has a......



(Distance < 14 km)rooms ranging from
: 47.00 Euros
Info:
This hotel is located in the west of the Alsatian town of Seltz, just 1 km from the A35 motorway, exit 57. It offers rooms and studios with satellite TV.
Hôtel Des Bois provides daily continental breakfast. It is either served in the......



(Distance < 15 km)Info:
Set in a typical half-timbered house, with an original blue façade, La Maison Bleue is only a 25-minute drive from Strasbourg. It offers spacious rooms with free Wi-Fi, a garden and free on-site parking.
With wooden floorings, each room......