Lake gerardmer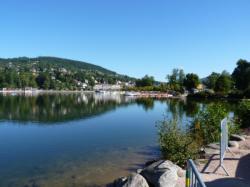 Description
Gerardmer Lake is located in the town of Gerardmer in the Vosges. Fed by four rivers, the lake of Gerardmer flows into a river : the Jamagne which itself flows into the Vologne. Located 660 meters above sea level, it is 2200-meter long and 750-meter wide, with a maximum depth of 38 meters and a volume of 19,510,000 cubic meters.



Originally a glacier, the lake has been lovingly nicknamed "the Pearl of the Vosges" by Victor Hugo's brother, Alfred. It is the largest natural lake in the Massif des Vosges. It is home to many species of fish like freshwater burbot, carp, roach, trout ... A true heaven for fishermen who can use various techniques : angling, casting rod, fly-fishing, game fishing ... Fishing is open from March to October
It should be noted that the lake is the subject of immersion of weapons and munitions that may cause chemical contamination of food chains or an explosion...

Surrounded by mountains and forests, the site provides many activities like water sports, boat rides and pedal boats, and of course swimming. A marked footpath is available for long walks.

A pleasant spot to discover in the Vosges!
Website
Author : Bérengère©

Nearest hotels - Lake gerardmer :


(Distance < 1 km)rooms ranging from
: 67.00 Euros
Info:
Located on the edge of Gérardmer Lake and 2 km from the city centre, L'Echo du Lac offers a traditional-style restaurant overlooking the lake, a bar and en suite rooms. You can relax on the terrace.
The contemporary rooms at L'Echo du......



(Distance < 1 km)rooms ranging from
: 108.00 Euros
Info:
Hotel Manoir au Lac is a large, elegant villa nestled in a peaceful and verdant area in the rolling hills near Lake Gérardmer .
Built last century, Le Manoir Au Lac was recently renovated to provide you with modern and elegant......



(Distance < 2 km)rooms ranging from
: 85.00 Euros
Info:
Residence Plaisance offers furnished apartments in the Lorraine region of France. The apartments have a balcony and kitchen. Free parking and Free Wi-Fi are available.
Residence Plaisance apartments have a TV, private bathroom and views......



(Distance < 2 km)rooms ranging from
: 90.00 Euros
Info:
This inn is located just a few steps from the Lake Gérardmer. It offers rooms overlooking the lake with private bathrooms and TVs, and some with balconies.
Guests can enjoy regional cuisine at L'Auberge au Bord du Lac's restaurant.......



(Distance < 2 km)rooms ranging from
: 60.00 Euros
Info:
This resort is located on the banks of Lake Gerardmer in the Vosges region. It offers free Wi-Fi and rooms with a view of the lake or the surrounding forest.
Guest rooms at Les Reflets du Lac are soundproofed and equipped with a TV and......