Lake of saint-cassien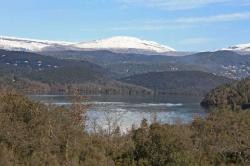 Description

Located in the mountains of the Esterel, near the villages of Montauroux, Callian and Adrets de l'Estérel, the Lake Saint Cassien is a 430 km² large water reservoir, built on the old bed of the Bianconi river. It is located at the entrance of the Bianconi gorge and was fill up with water in 1966. With its 430 ha, it is the largest lake in the district of Fayence. This vast artificial lake is one of the assets of the backcountry and has several functions : it feeds a hydroelectric plant, it is used for irrigation in the region, and it serves as the basis for Canadairs engaged in the fight against fires.



This water wonderland is very popular among bathers and fishermen . Many activities are available : paddle boats, swimming, rowing, canoeing... the lake is a popular site either to organize a family picnic or for all kinds of water activities such as fishing.

As such, Lake St. Cassien, is known for its huge carp and catfish and it is also full of beautiful perch, pike and black bass.



Located in the western part of the lake, the Fondurane Bird Biological Reserve is a haven for aquatic life and remains a popular stop for migrating birds. It is one of the few natural areas which have been protected and have been managed since 1988 by the CEEP (Ecosystem Studies Conservatoire de Provence). A diverse ecosystem can be observed in all seasons.

The flora consists mainly of Myriophiles of Spirogia, azole and Potamogeton. The trees that go down to the level of the water give this place a wild aspect that migratory birds particularly appreciated.

Lake Saint Cassien still has scars from the Malpasset disaster of 1959: the Roman aqueduct connecting Mons and Montauroux Frejus was partly submerged under the lake. The work, listed as an historical monument and true highway carrying water, was built between the mid-first century and early 2nd century AD and crosses over the Lake Saint Cassien.

Benefiting from a Mediterranean climate, this lake is a prime destination for a pilgrimage to the sun.
Author : Bérengère©

Nearest hotels - Lake of saint-cassien :


(Distance < 3 km)Info:
Located in Montauroux, 1.5 km away from Saint-Cassien lake, Gîtes des Esclapières features a ground floor apartment with private terrace set in a fenced property with a 5000 m2 park located in a cul-de-sac.
Offering free Wi-Fi, the......



(Distance < 3 km)rooms ranging from
: 70.00 Euros
Info:
With a view of the Saint-Cassien Lake, this cottage is located in the Montauroux district and features self-catering accommodations. Breakfast can be served in the sunny lounge.
All with a private entrance, the rooms and the cottage......



(Distance < 5 km)rooms ranging from
: 65.00 Euros
Info:
Just 20 minutes from Grasse and Cannes, let yourself be pampered in the warm atmosphere of this charming Provençal dwelling.
The Relais du Lac features single, double, twin and triple airconditioned guest rooms. Each of them comes with......



(Distance < 5 km)rooms ranging from
: 113.00 Euros
Info:
Only 7 km from Grasse, the world's perfume capital, Le Mas Des Anges offers B&B accommodation with a garden, a terrace and an outdoor swimming pool. Free Wi-Fi access is provided in public areas.
The guest rooms at Le Mas Des Anges are......



(Distance < 5 km)rooms ranging from
: 120.00 Euros
Info:
Situated in Le Tignet, 10 Km from Grasse and set in the building from the 1940?s, La Bastide d'Emmanuelle is an elegant guest house which features a garden view and a terrace.
The suite at La Bastide d'Emmanuelle is set on 2 levels with......