Le cirque du fer à cheval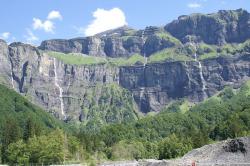 Deuxième Cirque montagneux de France, le Cirque du Fer à Cheval est situé en Haute-Savoie, dans la commune de Sixt-Fer-à-Cheval. En raison de son grand intérêt paysager, il est le plus grand site touristique de la Vallée du Haut-Giffre.

Ce cirque naturel, à ne pas confondre avec « le cirque du fer à cheval » situé dans le massif du Jura, forme un amphithéâtre de deux kilomètres de diamètre avec des falaises de cinq cent mètres de haut et une trentaine de cascades qui jaillissent de partout. Des cascades qui offrent un magnifique spectacle à la fonte des neiges. Mais quelque soit la saison, ce lieu hautement touristique reste un site exceptionnel, et prend des allures qui justifient son nom : le Bout du Monde.

Parmi les sommets qui l'entourent, le pic de Tenneverge culmine à 2987 mètres, le Cheval Blanc domine du haut de ses 2 831 mètres, et le Grenier de Commune surplombe le cirque avec ses 2775 mètres.

Le Cirque du Fer à Cheval est composé de falaises et éboulis datant de l'ère glaciaire. Forêts, prairies, landes… viennent agrémenter son paysage. Orchidées, chardons bleus… constituent la flore du site. Quant à la faune, elle reste intéressante : bouquetins et chamois évoluent sur les différentes falaises, tandis que les aigles royaux et grands tétras planent au dessus de l'hémicycle.

Le cirque fait partie de la réserve naturelle de Sixt-Fer-à-Cheval, et est également classé Grand site national. A ce titre, une modeste contribution est demandée aux visiteurs pour leur stationnement.
Photo: Toïlev©
Author : Bérengère©

Nearest hotels - Le cirque du fer à cheval :


(Distance < 5 km)rooms ranging from
: 50.00 Euros
Info:
La Maison Blache is a family-run hotel located Gouzon, about 30 km from Guéret and Montluçon and a 20-minute drive from Evault-Les-Bains. It offers rooms with free WiFi access.
Individually decorated, the rooms at La Maison Blanche......



(Distance < 12 km)rooms ranging from
: 75.00 Euros
Info:
Set on the banks of the River Voueize, this hotel is located in the Limousin region. It offers spacious guest rooms and a bar and traditional restaurant on site.
Guest rooms are individually decorated and feature a flat-screen TV. Free......



(Distance < 14 km)rooms ranging from
: 45.00 Euros



(Distance < 21 km)rooms ranging from
: 70.00 Euros
Info:
La Bonne Auberge is set in a 100-year-old building that was entirely renovated at the end of 2009. It is located in the historic village of Nouzerines.
Guest rooms at La Bonne Auberge are equipped with a flat-screen TV, Wi-Fi, a......



(Distance < 22 km)Info:
Set in a sumptuous park planted with trees and flowers, the hotel is an integral part of the spa facilities and presents a stunning façade and typical local architecture.
Grand Hotel Thermal welcomes you in a peaceful setting forming......