Le lac de serre ponçon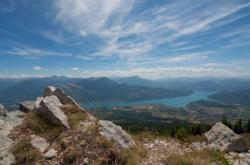 Le lac de Serre-Ponçon est situé dans le département des Hautes-Alpes dans une région chargée d'histoire. Cette très belle station balnéaire accueille chaque année les vacanciers durant la période estivale pour s'initier à la voile et aux plaisirs de la baignade sur les plages du lac de Savines. Situé dans la vallée, le lac est entouré de petits villages dans les montagnes environnantes. Les stations de sports d'hiver accueillent les touristes durant la saison pour s'adonner aux plaisirs de la glisse et de la randonnée sur les pentes enneigées.

Dans la vallée en direction d'Embrun, sur les hauteurs du village de Crôts, on aperçoit le magnifique château de Picomtal du XIVème siècle. Un peu plus loin au-dessus du village, au beau milieu de la montagne, l'Abbaye de Boscodon est un édifice de style roman à visiter. Le lac de Serre-Ponçon est alimenté par la Durance sur le département des Hautes-Alpes et par l'Ubaye du côté Alpes de Haute-Provence. Sa surface est de 2800 hectares : le lac devient ainsi le plus grand barrage de France. Le climat de la région et son environnement font du Lac de Serre-Ponçon un véritable paradis proposant de nombreux aménagements pour la navigation et la baignade.

Le long des rives des bases de loisirs se sont développées ou l'on pratique de nombreuses activités : tous les sports nautiques, kayak, planche à voile, catamaran, kitesurf, pêche. Durant la saison estivale de nombreux hébergements sont à la disposition des touristes.
Le petit port de Savines-le-lac organise de jolies promenades en bateau sur le lac avec une très belle visite guidée.
La route qui mène vers le Sauze-le-lac se déroule tout le long de la côte avec une vue imprenable sur la baie. On flâne devant ce superbe village fleuri puis en redescendant la route on aperçoit une magnifique crique et la plage de St Pierre donnant envie de faire une pause en profitant du calme dépaysant pour se baigner dans les eaux limpides du lac de Serre-Ponçon.
Un peu plus loin, le parc aux marmottes vous accueille pour la présentation de ses animaux. Un très beau spectacle de rapaces vous est proposé du belvédère avec une vue magnifique sur le lac.
Sur les hauteurs on peut entendre les cris de rapaces qui planent au-dessus des crêtes profitant des courants ascendants pour prendre de l'altitude. Par la route on longe la côte jusqu'au barrage EDF mis en service en 1961. Une halte s'impose à Rousset pour une très belle visite du musée : à voir absolument! La visite guidée retrace la construction du barrage de 1955 à 1961, sans oublier ses histoires et ses légendes. On peut faire le tour du lac à pied sur plusieurs jours par des sentiers pédestres, ou en véhicule faisant des haltes pour admirer les paysages.

Nearest hotels - Le lac de serre ponçon :


(Distance < 4 km)rooms ranging from
: 54.00 Euros
Info:
Offering an outdoor pool and a restaurant, Hotel Club Les Hyvans is located in Chorges on the shore of Serre-Ponçon Lake. Free WiFi access is available in this hotel.
The spacious rooms feature a flat-screen TV and a furnished balcony......


(Distance < 4 km)
rooms ranging from: 54.00 Euros




(Distance < 6 km)rooms ranging from
: 100.00 Euros


(Distance < 6 km)rooms ranging from
: 55.00 Euros
Info:
With a panoramic view of the Serre-Ponçon Lake, Camping la Palatrière offers an outdoor swimming pool, a spa bath and a bar. Free Wi-Fi is available on the terrace, at the restaurant and at the reception.
With a private terrace, each......



(Distance < 6 km)rooms ranging from
: 52.00 Euros
Info:
Located in Savines-le-Lac, surrounded by Écrins National Park, this hotel is facing Lake Serre-Ponçon and has panoramic views of the mountains or the lake and free Wi-Fi access.
Each room at the Hôtel les Chaumettes is equipped with a......