Le lac léman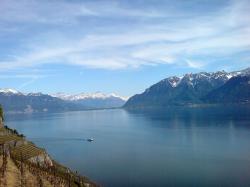 73 kilomètres de long, 14 kilomètres de large, le Lac Léman (ou Lac de Genève) est un lac d'origine glaciaire, traversé d'Est en Ouest par le Rhône.

Il tire son nom du celte « lem » qui signifie « grand » et « an » qui signifie « eau ». Sa forme ressemble à celle d'un croissant. D'origine glaciaire (résultat du surcreusement du glacier du Rhône), le Lac Léman occupe une superficie de 583 km² et un volume de 89 km³. Il est à ce titre le plus grand lac alpin d'Europe occidentale. Une superficie qui lui vaut la qualité d'une petite mer intérieure.

Il marque la frontière entre le département de Haute-Savoie et de la Suisse. Le rivage Nord et les deux extrémités sont suisses, tandis que le rivage Sud est français. La frontière passe au milieu du lac.

Sur ses bords, des villes importantes telles que Evian, Thonon-les-Bains, Genève, Lausanne… Le jet d'eau, haut de 140 mètres, est l'emblème de la ville de Genève.

Situé en bordure des Alpes, le Lac Léman offre pourtant un climat tempéré propice à une végétation dense et verdoyante. Un climat avec une tendance méridionale où l'on voit pousser palmiers et agaves et qui fait des berges du lac un véritable lieu de villégiature. La température de l'eau atteint facilement 24° en saison estivale, et le lac ne gèle pas en hiver.

Le lac offre un large panel de services et d'activités. Si les sports nautiques et la randonnée pédestre occupent une place de choix, les touristes trouveront également d'autres activités à pratiquer : VTT, golf, eau vive, sports aériens… Le lac est également bordé de nombreuses plages et ports de plaisance permettant aux bateaux à aubes ou autres embarcations plus traditionnelles de transporter les visiteurs d'une rive à l'autre.

La faune est aussi très riche. Les poissons du Léman sont très appréciés : la perche, la truite, l'omble chevalier, le corégone… Quant aux oiseaux, plus de 150 000 viennent prendre leur quartier d'hiver sur les bords du lac. Parmi eux, la mouette rieuse, le goéland, le héron cendré, le cygne…

Une douceur de vivre au cœur d'une ambiance Riviera !
Author : Bérengère©

Nearest hotels - Le lac léman :


(Distance < 5 km)rooms ranging from
: 88.00 Euros
Info:
Set on the south bank of Lake Geneva, this guest house is ideally located half way between Evian-les-Bains and Thonon-les-Bains. You can relax in the garden or by the lake, just 200 metres from the property.
With free Wi-Fi, the rooms......



(Distance < 6 km)rooms ranging from
: 68.00 Euros
Info:
Hôtel Evian Express ? Terminus has a prime position with panoramic views of Lake Geneva. This charming hotel is only 500 metres from the centre of Evian-les-Bains and offers comfortable accommodation.
The en suite guest rooms feature a......



(Distance < 6 km)rooms ranging from
: 85.00 Euros
Info:
This hotel is situated on the edge of the Lake Geneva, with a restaurant on stilts, extensive, shady grounds and gardens of flowers...you couldn't be closer to the water and to the verdant region of Savoy!
It features a games room and......



(Distance < 6 km)rooms ranging from
: 63.00 Euros
Info:
Centrally located in the spa-town of Evian-les-Bains, this hotel is just 200 metres from Lake Geneva. It offers a sauna and hot tub, and spacious rooms with private balconies.
The soundproofed guest rooms at the Hotel Le Bourgogne are......



(Distance < 6 km)Info:
Located in Cluny, 1 km from the abbey and the roman city centre, Hostellerie d'Héloïse features a gastronomic restaurant, a bar and a secure shed for bikes and motorbikes. Mâcon TGV Train Station is 20 km away.
Provided with an LCD TV,......