Les arènes d'arles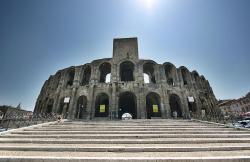 L'amphithéâtre d'Arles fut construit par les romains entre 80 et 90 après J.C., il est l'un des plus célèbres édifices de cette époque et il est aussi l'un des mieux conservé. Construit sur le même modèle que le Colisée de Rome, cet amphithéâtre pouvait accueillir 21 000 spectateurs venus encourager les gladiateurs. D'une longueur de 136 mètres, le monument est classé au vingtième rang des plus grands amphithéâtres romains.

Durant le Moyen-Âge, face aux nombreuses menaces et pour protéger les habitants, l'amphithéâtre fut transformé en une grande forteresse dans laquelle plus de 200 habitations et 2 églises furent construites.



Ce n'est qu'au XIX° siècle que l'on décida de rendre à ce grand monument sa fonction première : accueillir de grands évènements. On y organisa alors de nombreux spectacles, mais surtout des courses de taureaux, d'où son appellation courante d' «Arènes d'Arles» .

Cependant la restauration de l'amphithéâtre fut très longue, la première fois que l'on parla de sa rénovation fut en 1822. De là, plusieurs campagnes de travaux se succédèrent sans qu'aucune continuité ne soit mise en place. Le monument se retrouva même pendant plusieurs mois sans protection contre la pluie et le vent. En 1863, l'architecte Questel écrivit un rapport dans lequel il dénonçait l'urgence de réaliser un plan à long terme de rénovation du site. Ce plan allait servir jusqu'à la moitié du XX° siècle.



A partir des années 2000, une vaste campagne de restauration fut mise en place dans la cadre du Plan Patrimoine Antique.

Aujourd'hui, les Arènes d'Arles sont très souvent le lieu de manifestations en tous genres : pour la tauromachie évidement, mais aussi pour de nombreux concerts, pour la Féria de Pâques, la Fête des Guardians le 1er mai, la fête d'Arles en juillet, la Féria du Riz en septembre ou encore le Trophée des As en octobre et les courses camarguaises pendant tout l'été.
Horaires
- Du 2 novembre au 28 février : 10h - 17h
- Du 1er mars au 30 avril : 9h - 18h
- Du 2 mai au 30 septembre : 9h - 19h
- Du 1er au 31 octobre : 9h - 18h

Tel : 04 90 49 36 74

Tarifs : 6,00 € et 4,50 € + théâtre antique.
Copyright photo : Stefan Bauer
Author : Amandine©

Nearest hotels - Les arènes d'arles :


(Distance < 1 km)rooms ranging from
: 69.00 Euros
Info:
Housed in a charming 17th-century building, Hotel Spa Le Calendal is located in the historical centre of Arles, between the Antic Theatre and the Amphitheatre. It offers well-equipped rooms with free Wi-Fi.
Rooms at Hotel Spa Le......



(Distance < 1 km)rooms ranging from
: 25.00 Euros



(Distance < 1 km)Info:
Located in the very heart of the old town centre of Arles, near the arenas and the ancient theatre, the Hotel de l'Amphithéatre has expanded in size by acquiring a nearby 18th century beautiful mansion building, offering a marvelous basis for your stay ...



(Distance < 1 km)Info:
Alain and Brigitte welcome you to their Hotel De La Muette, situated in the centre of the old town, only 100 metres from the arenas.
This ancient house, built in the 12th and 15th centuries, has been renovated and decorated in a......


(Distance < 1 km)rooms ranging from
: 59.00 Euros
Info:
Un des plus beaux hôtels particuliers du XVIIe siècle en quatre corps de bâtiment ordonnés autour de la fraîcheur et du calme d'une cour intérieure, entièrement rénové depuis 2003. Nos clients bénéficient à la fois du charme d'une bâtisse hitorique reflétant l'art de vivre de la bourgeoisie arlésienne, ainsi que du confort que peut apporter un hôtel moderne, coloré et meublé dans un style tout particulier. ...