Les gorges du verdon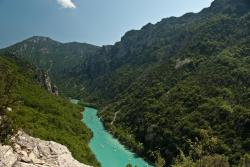 Les gorges du Verdon constituent un site unique en Europe, c'est un immense canyon au fond duquel s'écoulent les eaux vertes du Verdon. Décrit comme le plus beau canyon d'Europe, ce site s'étend sur les départements du Var, des Alpes de Hautes-Provence et des Alpes-Maritimes. Ces gorges sont le résultat du long travail de l'eau qui a creusé la roche jusqu'à avoir aujourd'hui d'immenses falaises calcaires aux pieds desquelles coule le Verdon.



Les gorges du Verdon furent découvertes assez tardivement, au début du XXe siècle. Très vite, elles furent appréciées et sont maintenant très fréquentées par de nombreux touristes venus du monde entier. Les gorges du Verdon ont été intégrées au cœur du Parc Naturel Régional du Verdon en 1997. Elles sont également labellisées « Grands Sites de France ».

Les gorges du Verdon, c'est aussi un ensemble de petits villages typiques (43 communes au total), perchés sur les bords du canyon. Ceux-ci ont gardé leur charme d'antan, et la chaleur de leur accueil est resté le même. A partir de ces villages, vous pourrez pratiquer de nombreuses activités liées à la nature exceptionnelle du site :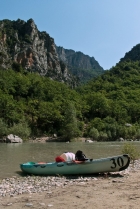 Commençons avec les sports nautiques: grâce au Verdon qui s'écoule aux travers des falaises, et grâce aux 4 lacs (Lac d'Esparron de Verdon, lac de Quinson, lac de Ste Croix et lac de Castillon), vous pourrez pratiquer des activités très variées comme le canoë kayak, le rafting, la canyoning, le ski nautique, la pêche, ou encore le pédalo.

Pour ceux qui préfèrent rester au sec, il est possible de pratiquer la randonnée pédestre ou en VTT sur des centaines de kilomètres de sentiers balisés, mais aussi de grimper sur les superbes falaises qui jalonnent le canyon du Verdon.

Enfin, pour les plus aventurier, des activités aériennes sont proposées dans ou au dessus des gorges, vous pourrez effectuer du vol à voile sur les lacs, ou vous adonner au parapente ou au vol libre pour découvrir cette magnifique région vue du ciel.
Author : Amandine©

Nearest hotels - Les gorges du verdon :


(Distance < 4 km)rooms ranging from
: 95.00 Euros
Info:
Set in the Verdon Gorge, Gîte Boulogne offers self-catering cottages that share access to an outdoor swimming pool. It has a view of Le Point Sublime and BBQ facilities are provided in the garden.
Decorated in a traditional style, the......



(Distance < 5 km)rooms ranging from
: 190.00 Euros
Info:
Paradise in the heart of the Verdon Gorges !With cascading terraces and swimming pool, the Hotel offers a unique panoramic view over the village, mountains and fields......



(Distance < 7 km)rooms ranging from
: 69.00 Euros
Info:
Le Vieil Amandier is located in the village of Trigance, in the heart of the Verdon Nature Reserve. Its facilities include an outdoor swimming pool and free on-site parking.
The guest rooms are equipped with a private bathroom and free......



(Distance < 7 km)rooms ranging from
: 130.00 Euros
Info:
At the gateway to the Verdon, perched on a rocky outcrop, this 11th century castle once belonged to the counts of Provence and now welcomes guests in a skilfully restored medieval atmosphere. The comfortable bedrooms furnished in the Haute Epoque style ...



(Distance < 11 km)rooms ranging from
: 72.00 Euros
Info:
Situated in an 18th-century building, Hotel du Vieux Chateau features rooms with an LCD TV and free Wi-Fi, a bar and a terrace. Set in the centre of Aiguines, it opens on a Provençal-style square with bars and shops.
With views of the......