Musée baron martin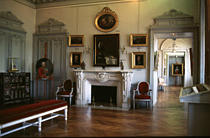 Musée baron martin
6, rue Pigalle
70100
Gray
Tel.: 03 84 64 83 46




Le musée a été fondé en 1905 grâce à l'initiative du sénateur-maire Signard, et installé dans le bâtiment du XVIIIème siècle construit à l'emplacement de l'ancien château féodal. Réorganisé en 1954 et complété en 1973 par l'ouverture des caveaux, le musée présente depuis une section d'archéologie. Les collections correspondent aux dons de E.Pigalle petit-fils du baron Martin, ancien propriétaire du château , Jobard, Maciet, Bilhourd, Billardet, Dutilleul-Francoeur et M. de Mirimonde.
Website


Services - Musée baron martin
jardin accessible au public ; aides à la visite : audiovisuel (dans les salles) services commerciaux : librairie, carterie catalogues (français) ; petit journal d'exposition ; documents pédagogiques


Art Exhibitions - Musée baron martin
Van Loo (1614 - 1670). Boucher (1703 - 1770). Prud'hon (1758 - 1823). Gêrome (1824 - 1904); Besnard (1849 - 1934).


Themes of collections - Musée baron martin
Archeologie nationale : Gallo-romain Arts décoratifs : Mobilier Beaux-Arts : Dessin, Peinture, Sculpture


Architecture - Musée baron martin
Le musée est installé dans un château de plaissance reconstruit à la fin du XVIIe sur l'emplacement de l'ancienne forteresse des ducs de Bourgogne dont il ne reste que les remparts, les caves et une tour. Les salons ont été réaménagés à la fin du XVIIIe. La grande galerie du 1er étage est du XXe


Main interests - Musée baron martin
Certaines salles du musée présentent leurs boiseries anciennes et une partie de leur mobilier ce qui confère à ce musée l'aspect d'une demeure particulière où on peut voir des oeuvres des collections de l'école flamande, hollandaise et française du XVIIe et XVIIIe.


Equipments - Musée baron martin
Toilettes aux normes handicapés Circulation fauteuils roulants : salles expositions (partielle)


Activities - Musée baron martin
4 exposition(s) temporaire(s) par an visites guidées : générales, enfants accueil des scolaires : visites, ateliers conférences, 4 concert(s) par an


Schedules - Musée baron martin
de 10h à 12h et de 14h à 18h du 1er mai au 30 octobre . fermerture à 17h du 1er novembre au 30 avril. Fermeture annuelle : 1er novembre, 25 décembre, 1er janvier, 1er mai. Ouvert toute l'année : Oui Visite sur rendez-vous : Oui


Rates - Musée baron martin
- Gratuité : (étudiants beaux-arts et scolaires de la commune.)


Tourism information - Musée baron martin
Access : Parc de stationnement
Sites to see : Chapelle des carmélites et ses collections d'art sacré. La vallée de la Saône


Nearest hotels - Musée baron martin :


(Distance < 3 km)rooms ranging from
: 98.00 Euros
Info:
Chateau de Rigny sits on a 5-hectare park situated on the banks of the Saône River. It has a terrace that overlooks the park and the outdoor swimming pool and tennis court.
Each room in the chateau is individually decorated with......



(Distance < 5 km)rooms ranging from
: 56.00 Euros
Info:
This guesthouse is located in the building of a former spice mill dating from the 19th century. Surrounded by parkland and gardens and offering guest rooms with exposed beams, it is situated in the village of Chargey-Lès-Gray in the heart of......



(Distance < 10 km)rooms ranging from
: 60.00 Euros
Info:
This hotel is set in an 18th-century building with a tree-lined garden. It is located in the village of Beaujeu-et-Quitteur, 1 km from the River Saône.
Free Wi-Fi is provided in the guest rooms, which have tiled flooring and exposed......



(Distance < 14 km)rooms ranging from
: 60.00 Euros



(Distance < 15 km)rooms ranging from
: 73.00 Euros
Info:
Set in a renovated, 15th-century castle, this B&B is in the countryside, 7 km from Fontaine Française. You can visit the castle with antique paintings and exposed wooden beams, and enjoy the maze garden.
Château de Rosieres offers guest......