Musée d'art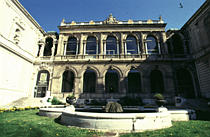 Musée d'art
113, boulevard du Maréchal Leclerc
83000
Toulon
Tel.: 04 94 36 81 00






Peintures provençales du XVIIème au début du XXème siècle. Art contemporain. Photographies contemporaines.

Michel Serre, Fragonard, Simon Julien, Emile Loubon, Vincent Courdouan, Alexis Mossa, Eugène Carrière, Ribot, Ziem, Arman, César, Yves Klein, Jean Degottex, Sigmar Polke, Robert Filliou, Richard Long, Martial Raysse, Niki de Saint-Phalle, Deschamps, Gisèle Freund.

3 exposition(s) temporaire(s) par anvisites guidées : générales, enfantsaccueil des scolaires : ateliersateliers du musée, pour enfantsconférences

jardin accessible au public ; bibliothèque ou centre de documentationservices commerciaux : librairie


Services - Musée d'art
jardin accessible au public ; bibliothèque ou centre de documentation services commerciaux : librairie


Art Exhibitions - Musée d'art
Michel Serre, Fragonard, Simon Julien, Emile Loubon, Vincent Courdouan, Alexis Mossa, Eugène Carrière, Ribot, Ziem, Arman, César, Yves Klein, Jean Degottex, Sigmar Polke, Robert Filliou, Richard Long, Martial Raysse, Niki de Saint-Phalle, Deschamps, Gisèle Freund.


Themes of collections - Musée d'art
Antiquités etrangères : Grecques et romaines, Egyptiennes, Orientales Archeologie nationale : Gallo-romain Art moderne et contemporain Arts décoratifs : Mobilier Beaux-Arts : Dessin, Estampe et Affiche, Peinture, Sculpture Civilisations extra-européennes : Asiatiques, Islamiques Collections militaires : Armes


Architecture - Musée d'art
conçu dans l'esprit Napoléon III qui unissait museum et bibliothèque (comme à Marseille, Nantes, Amiens, etc), le musée a été édifié sur les plans de l'architecte G. Allar en 1887, dans le style de la Renaissance italienne.


Main interests - Musée d'art
Peintures provençales du XVIIème au début du XXème siècle. Art contemporain. Photographies contemporaines.


Equipments - Musée d'art
Ascenseur aux normes handicapés Circulation fauteuils roulants : salles expositions (totale), services commerciaux (totale)


Activities - Musée d'art
3 exposition(s) temporaire(s) par an visites guidées : générales, enfants accueil des scolaires : ateliers ateliers du musée, pour enfants conférences


Schedules - Musée d'art
Tous les jours sauf jours fériés de 13h à 18h Fermeture annuelle : Noël, premier janvier, Pâques, Pentecôte, premier mai, 14 juilliet, 15 août, 11 novembre, premier novembre. Ouvert toute l'année : Oui Visite sur rendez-vous : Oui


Rates - Musée d'art
- Gratuité : Oui


Tourism information - Musée d'art
Access : Parc de stationnement (souterrain) Bus Gare desservie (Toulon)
Sites to see : Musée de la Marine. La Rade de Toulon (à faire en bateau). Ancien fort de la tour Beaumont sur le Mont Faron. Les plages de Morillon où la villa Jules Verne (04 98 00 41 00) accueil les collections d'art asiatiques.


Nearest hotels - Musée d'art :


(Distance < 1 km)rooms ranging from
: 55.00 Euros
Info:
The hotel "Le Jaurès" is located downtown Toulon....



(Distance < 1 km)rooms ranging from
: 65.00 Euros
Info:
Parking à prix préférentiel / Accès handicapés / Ascenseur / TV LCD / Insonorisation / Téléphone, Appels gratuit / WiFi Gratuit / Câble Satellite / Canal + / Air conditionné / Chiens acceptés / Cartes bancaires / Chèques vacances / Change / Traveller chèque / Tickets restaurant. Membre de la Charte d'Engagement Qualité Tourisme PACA ...



(Distance < 1 km)rooms ranging from
: 50.00 Euros
Info:
In the heart of the centre of Toulon, 300 m from the train station, on the magnific « place de la Liberté », all the team of Celenya Hotel will have the pleasure to welcome you in one of the 29 rooms....



(Distance < 1 km)rooms ranging from
: 80.00 Euros
Info:
Ideally located in the city centre, right in front of the Toulon Opera, the Acanthid offers soundproofed rooms with air conditioning. It is just 4 km from the Mourillon beach.
All of the rooms are equipped with a flat-screen satellite......



(Distance < 1 km)rooms ranging from
: 55.00 Euros
Info:
Hôtel Bonaparte is set in the heart of Toulon, a 2-minute walk from the harbor and Toulon Arsenal. Each room has a private bathroom and TV. Free wired internet is available.
All of the Bonaparte?s rooms have soundproofed windows and......