Musée de brou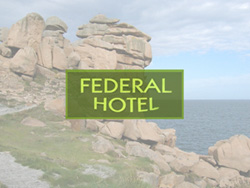 Musée de brou
Monastère de Brou,63 boulevard de Brou
01000
Bourg-en-bresse
Tel.: 04 74 22 83 83




Le musée a été créé en 1854 grâce au legs de M. Lorin, magistrat de la région, dont la collection comportait 105 peintures. Celle-ci s'est accrue jusqu'en 1945 par des dons, legs et dépôts de l'Etat. Depuis 1946, le musée bénéficie d'un budget d'acquisition qui s'est amplifié dans les années 1970 et a été renforcé par la création du Fonds régional d'acquisition pour les musées (FRAM) en 1982.
Website


Services - Musée de brou
jardin accessible au public ; bibliothèque ou centre de documentation ouvert au public services commerciaux : librairie, carterie, boutique


Art Exhibitions - Musée de brou
B. van Orley. Colijn de Coter. Jan de Beer. Brueghel de Velours. D. Teniers. Snyders. F. Francken. N. de Largillière. J. F. Millet. G. Moreau. A. Chintreuil. Appian. Carrand. Fleury Richard. Revoil. J. Migonney. L. Jourdan. J. Degottex. P. Soulages. J. Voss. S. Hantaï. R. Serra. U. Rückriem. J. Bissier. G. Asse.


Themes of collections - Musée de brou
Archeologie nationale : Préhistoire, Protohistoire, Gallo-romain, Paléo-chrétien, Médiéval, Moderne Art moderne et contemporain (Art abstrait à partir des années 1950 : peinture lyrique et gestuelle.) Art religieux (Tableaux flamands XVIe siècle. Peinture française XVIIe-XVIIIe siècles. Sculptures XVIe-XIXe siècles) Arts décoratifs : Céramique, Mobilier, Autre(s), (Emaux bressans. Collection de lampes et luminaires de toutes les époques.) Beaux-Arts : Dessin, Estampe et Affiche, Peinture, Sculpture Collections militaires : Armes, Autre(s), (Documents concernant la guerre de 1914 - 1918 (fonds Lambert)) Musique : Instruments Sciences de la nature : Botanique, Entomologie


Architecture - Musée de brou
le musée est installé dans le monastère de Brou, attenant à l'église du même nom. Il fut édifié entre 1506 et 1512 sur les ordres de Marguerite d'Autriche. Construit en style gothique, il s'ordonne autour de "cloîtres à étage", cas unique en France. Les salles du rez-de-chaussée (salles capitulaires, réfectoire, cuisine) ouvrent sur les longues galeries des cloîtres, lieu des expositions temporaires annuelles du musée. Au premier étage, un long couloir dessert les anciennes cellules de moines où sont présentées les collections permanentes du musée.


Main interests - Musée de brou
Art flamand du XVe au XVIIe siècle. Art français du XVIIe au XIXe siècle. Art régional des XIXe et XXe siècles. Art contemporain (abstraction lyrique et gestuelle des années 1950).


Equipments - Musée de brou
Circulation fauteuils roulants : salles expositions (partielle), services commerciaux (partielle)


Activities - Musée de brou
3 exposition(s) temporaire(s) par an visites guidées : générales, thématiques, enfants, handicapés accueil des scolaires : visites, ateliers, jumelages, classes culturelles ateliers du musée, pour enfants conférences, 1 concert(s) par an


Schedules - Musée de brou
Du 1er octobre au 31 mars de 9h à 12h et de 14h à 17h. Du 1er avril au 30 septembre de 9h à 12h30 et de 14h à 18h30. Fermeture annuelle : 1er janvier. 1er mai. 1er et 11 novembre. 25 décembre. Ouvert toute l'année : Oui Visite sur rendez-vous : Oui


Rates - Musée de brou
- Réduit : (De 12 à 25 ans. Familles nombreuses. Enseigants.) - Gratuité : (Moins de 12 ans. Chômeurs. Rmistes. Handicapés. Amis de Brou.) Abonnement : Oui. Association des amis de Brou (entrée gratuite).


Tourism information - Musée de brou
Access : Parc de stationnement (à 200 mètres) Bus (Service de bus desservant la gare de Bourg-en-Bresse) Gare desservie (Bourg-en-Bresse (TGV direct Paris-Genève et Paris-Chambéry).) Accès routier (A40 depuis Mâcon (35 km) ou Genève (110 km). A42 depuis Lyon (70 km) sortie Bourg-sud.)
Sites to see : Musée de la ferme des Planons. Cité médiévale de Pérouges. Châtillon-sur-Chalaronne. Ambronay. Parc ornithologique de Villars-les-Dombes.


Nearest hotels - Musée de brou :


(Distance < 1 km)



(Distance < 1 km)rooms ranging from
: 42.00 Euros
Info:
The hotel Ibis Bourg-en-Bresse features 24-hour reception, air-conditioned rooms and free Wi-Fi. The hotel is located 3 km from the Bourg-en-Bresse train station and 74 km from Lyon Saint Éxupéry Airport.
Rooms offer a desk, wardrobe......



(Distance < 1 km)rooms ranging from
: 90.00 Euros
Info:
Situated in Bourg-en-Bresse, Citotel Le Logis De Brou is only a 10-minute walk from the old town and a 5-minute walk from the Royal de Brou Monastery. Up to 7 restaurants can be found in the surrounding area and the property offers a terrace......



(Distance < 1 km)rooms ranging from
: 87.00 Euros
Info:
Riad des Baudières is located a 5-minute walk from Bourg-en-Bresse city centre and the Brou Monastery. It is set in a quiet street and features a spacious room with direct access to the private swimming pool and garden.
The room has a......



(Distance < 2 km)rooms ranging from
: 59.00 Euros
Info:
Located in Bourg-en-Bresse, 1 km from the centre, this low-cost hotel features a garden with a swimming pool. Free Wi-Fi access is provided in the guest rooms and private parking is free on site.
Decorated in a contemporary style, each......