Musée de l'ardoise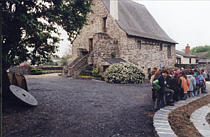 Musée de l'ardoise
32, chemin de La Maraîchère
49800
Trélazé
Tel.: 02 41 69 04 71




Dès la constitution de l'Association, des demandes de matériel ont été formulées auprès de la Société des ardoisiers d'Angers; celle-ci a donné beaucoup d'objets ou machines qui constituent la majeure partie des collections du musée de l'Ardoise.


Services - Musée de l'ardoise
jardin accessible au public ; bibliothèque ou centre de documentation ouvert au public ; aides à la visite : audiovisuel (dans les salles) services commerciaux : librairie, carterie, boutique


Themes of collections - Musée de l'ardoise
Beaux-Arts : Sculpture Autres collections : Archives papier, Archives sonores, Photographie Ethnologie : Costume, Métiers et Outils Histoire : Musée thématique Sciences de la nature : Géologie Sciences et techniques : Industrie


Architecture - Musée de l'ardoise
Le musée se situe pour partie dans une maison construite en schiste, datée du XVIème siècle, avec comme caractéristiques principales des murs épais, des ouvertures étroites, un four à pain au premier étage, un pigeonnier sur la façade est. Il dispose également de quatre salles d'exposition situées dans une ancienne manufacture d'allumettes érigée dans les années 1860.


Main interests - Musée de l'ardoise
Série de machines pour la fabrication des ardoises. Plusieurs objets façonnés dans le schiste (par exemple évier, cheminée, tables, plaques gravées, bas reliefs). Lors de chaque visite une démonstration de travail de l'ardoise (durée une heure) est réalisée par d'anciens ouvriers ardoisiers.


Equipments - Musée de l'ardoise
Auditorium : 100 places - Equipement audiovisuel : Videos. Films. Diapos. Circulation fauteuils roulants : salles expositions (partielle), services commerciaux (totale)


Activities - Musée de l'ardoise
1 exposition temporaire par an visites guidées : générales accueil des scolaires : visites, jumelages , 5 concert(s) par an, 10 spectacle(s)


Schedules - Musée de l'ardoise
du 15/02 au 30/06 et du 16/09 au 30/11, ouvert le dimanche et les jours fériés de 14H à 18 H. Du 01/07 au 15/09, ouvert tous les jours de 14 H à 18 H sauf le lundi. Fermeture annuelle : décembre, janvier, 1ère quinzaine de février. 25/12 et 01/01 Visite sur rendez-vous : Oui


Rates - Musée de l'ardoise
- Plein : (pour les adultes) - Réduit : (Enfant de 6 à 16 ans, Etudiants.) - Spécifique : (groupe scolaire de + 30, groupe adultes 30F/pers.) - Gratuité : (Enfants -6ans. Pour les accompagnateurs de groupe.) Abonnement : Oui. Pass Culture et Sport pour les Jeunes de la région Pays de Loire.


Tourism information - Musée de l'ardoise
Access : Bus (de la ville.) Gare desservie (SNCF, 10 minutes du centre ville d'Angers, liaison bus de la ville.) Accès routier (accès RN 152.)
Sites to see : Château et musées d'Angers, musée de la communication et musée Cointreau à St Barthélémy d'Anjou.


Nearest hotels - Musée de l'ardoise :

(Distance < 2 km)
rooms ranging from: 70.00 Euros
Info: This hotel is located in the Loire Valley, just a 5-minute drive from Angers. It offers spacious and bright, air-conditioned rooms with free Wi-Fi and private bathrooms with free toiletries.

Logis Hotel De Loire Rest. Les Bateliers has......



(Distance < 2 km)rooms ranging from
: 55.00 Euros
Info:
Located in Les Ponts-de-Cé on the Loire River, this family-run hotel features rooms with private bathroom and free Wi-Fi. Two meeting rooms, a traditional restaurant and a bar are also at guests' disposal.
Completely renovated and......



(Distance < 2 km)



(Distance < 3 km)rooms ranging from
: 190.00 Euros
Info:
Located in Les Ponts-de-Cé, Manoir du Rivet features elegant rooms with LCD TVs, fireplaces and old furniture. Free Wi-Fi is available throughout and a continental breakfast is offered daily.
A hairdryer, slippers and bathrobes are......



(Distance < 3 km)rooms ranging from
: 90.00 Euros
Info:
Located on the Loire River, just a 20-minute drive from Angers, Château de Belle Poule is set on a former farm and offers a 2-hectare park. Saumur is 47 km away.
Situated in converted barns, all rooms feature a flat-screen TV and silk......