Musée dobrée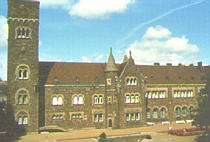 Musée dobrée
18, rue Voltaire
44000
Nantes
Tel.: 02 40 71 03 50




En 1895, le collectionneur Thomas Dobrée lègue ses collections, destinée à être présentées dans un nouveau bâtiment qu'il a spécialement fait construire par l'architecte Viollet-le-Duc.
Website


Services - Musée dobrée
jardin accessible au public ; bibliothèque ou centre de documentation ouvert au public ; photothèque services commerciaux : librairie, carterie, boutique Ouverture de la bibliothèque sur rendez-vous


Themes of collections - Musée dobrée
Antiquités etrangères : Grecques et romaines, Egyptiennes, Orientales Archeologie nationale : Préhistoire, Protohistoire, Gallo-romain, Paléo-chrétien, Médiéval, Moderne Architecture et urbanisme Art moderne et contemporain (Estampes) Art religieux (Vases sacrés, chasubles, orfrois, devant d'autel) Arts décoratifs (Bois) Beaux-Arts : Dessin, Estampe et Affiche, Peinture, Sculpture Civilisations extra-européennes : Africaines, Américaines, Asiatiques, Islamiques, Océaniennes Collections militaires : Armes, Artillerie, Uniformes, Armures Autres collections : Archives papier, Fonds ancien d imprimés, Manuscrits, incunables, Moulages, Numismatique, Ouvrages de bibliophilie, Partitions, Sigillographie Histoire : Période historique, Histoire locale et régionale Musique : Instruments


Architecture - Musée dobrée
deux des bâtiments qui abritent les collections ont un intérêt particulier : le manoir de la Touche, ancienne résidence épiscopale, construite dans le premier quart du XVe siècle et remanié au XIXe siècle, et le palais Dobrée, construit de 1862 à 1898, pour le collectionneur Thomas Dobrée (1810-1895). Plusieurs architectes, dont Viollet-le-Duc (1862), furent sollicités pour l'édification de ce bâtiment marqué par l'éclectisme des goûts de Dobrée, avec de nettes références à l'art médiéval et aux architectures insulaire et normande.


Main interests - Musée dobrée
Collections médiévales (nouvelle muséographie). Sculpture. Peinture (XV-XVIe, XVIIe et XVIIIe). Verreries et céramiques. Collections archéologiques. Collections égyptiennes et précolombiennes.


Equipments - Musée dobrée
Monte-charge ; Vestiaire Auditorium : 160 places - Equipement audiovisuel : Vidéo-projecteur, rétro-projecteur, projecteur-diapo, projecteur 16 mm, écran électrique, sono, HF. Ascenseur Circulation fauteuils roulants : salles expositions (partielle), services commerciaux (totale)


Activities - Musée dobrée
2 exposition(s) temporaire(s) par an visites guidées : générales, thématiques, enfants, handicapés accueil des scolaires : visites, ateliers ateliers du musée, pour enfants conférences


Schedules - Musée dobrée
Tous les jours sauf lundi de 10h à 12h et de 13h30 à 17h30. Fermeture annuelle : Le lundi et jours fériés. Ouvert toute l'année : Oui Visite sur rendez-vous : Oui


Rates - Musée dobrée
- Réduit : (Etudiants, groupes (10 pers), cartes vermeil et malice, adultes (+ 65 ans),enseignants, jeunes (10-18ans).) - Spécifique : (Visite guidée.) - Gratuité : (Enfants (- 10 ans), scolaires et étudiants en groupes, chômeurs, appelés, conservateurs de musée.)


Tourism information - Musée dobrée
Access : Bus (n°11 (arrêt Jean V)) Tramway (arrêt Médiathèque)
Sites to see : Théâtre Graslin. Cours Cambronne. Museum d'histoire naturelle.


Nearest hotels - Musée dobrée :


(Distance < 1 km)rooms ranging from
: 62.00 Euros
Info:
Hotel Voltaire Opera is located in central Nantes, 50 metres from the Théâtre Graslin and a 10-minute walk from Machines de l'île. The hotel was originally built in 1855 and offers a library.
Satellite TV, free Wi-Fi access and a work......



(Distance < 1 km)rooms ranging from
: 55.00 Euros
Info:
This hotel is situated in the city centre, 95 metres from the Theatre Graslin, and offers free internet access. It has been awarded the international Green Key eco-label.
The air-conditioned rooms at the Hotel Amiral are soundproofed......



(Distance < 1 km)Info:
The Hôtel Le Cambronne is located in Nantes, 350 metres from the banks of the Loire. It offers en-suite guestrooms with LCD TV and free Wi-Fi
Guests of the Hôtel Le Cambronne can enjoy a continental breakfast and relax in the hotel's......



(Distance < 1 km)Info:
Located in Nantes city centre, Best Western Hotel Graslin is just a 2-minute walk from the Graslin Theatre. It offers soundproofed rooms with flat-screen TVs and free Wi-Fi access.
A breakfast buffet is served daily and guests are......



(Distance < 1 km)rooms ranging from
: 101.00 Euros
Info:
Hotel De France is located in the centre of Nantes, a 2-minute walk from the Theatre Graslin and the Passage Pommeraye. It offers free on-site parking and free Wi-Fi.
The rooms are equipped with flat-screen satellite TVs and are all......