Musée du château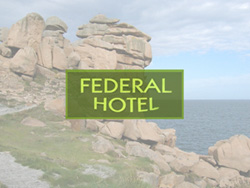 Musée du château
44 rue du Général de Gaulle
49140
Villevêque
Tel.: 02 41 76 88 07




Le musée du château de Villevêque présente les oeuvres léguées par Marie Dickson-Duclaux en 2002 à la ville d'Angers pour en faire une annexe du musée des Beaux-Arts. Elle suit en cela les volontés de son époux, Daniel Duclaux, décédé en 1999. Ce dernier industriel du nord de la France a constitué uen importante collection d'oeuvres d'art du Moyen Age et de la Renaissance
Website


Architecture - Musée du château
Les collections sont présentées dans la demeure du collectionneur, ancienne résidence des évêques d'Angers élevée aux XIIe et XVe siècles et léguées à la ville d'Angers avec les oeuvres d'art. Depuis 1961 , le château est flanqué d'une partie de la galerie supérieure du cloître d'Elne, comprenant une vingtaine de chapiteaux du XIVe. Cette partie est classée Monument Historique. Le château est entouré d'un parc et d'un vignoble.


Main interests - Musée du château
La collection de Daniel Duclaux couvre presque tous les domaines de la création du XIIe au XVIIe: sculptures, tapisserie, mobilier, peinture, émaux, orfévrerie, objets domestiques, céramiques, livres, enluminés, étoffes anciennes. Les pièces majeures en sont les sculptures siennoises du début du XVe, les tapisseries médiévales et les céramiques italiennes de la Renaissance.


Equipments - Musée du château
accès handicapés


Schedules - Musée du château
Samedi et dimanche de 14h à 18h. Parcours commentés le dimanche après-midi


Rates - Musée du château
Tarif plein : 2 € - réduit 1 € Tarif animations - parcours commentés 1 entrée musée et 1 animation Tarif plein : 5 € - réduit 4 € 2 animations des musées au choix Tarif plein 7 € - réduit : 6 €


Tourism information - Musée du château
Access : Parc de stationnement ; Bus à partir d'Angers ; Gare desservie d'Angers à 20minutes


Nearest hotels - Musée du château :


(Distance < 4 km)rooms ranging from
: 70.00 Euros
Info:
Located in Villeveque, Hôtel à l'Océane is set within a tree-lined park and provides soundproofed rooms. You can relax on the furnished terrace with a drink from the bar and dine at the on-site restaurant.
All of the air-conditioned......



(Distance < 5 km)rooms ranging from
: 180.00 Euros
Info:
Château de Noirieux sits in the middle of a 9-hectares parkland just 15 kilometres north-east of Angers. It offers a calm, natural environment and elegant accommodation.
The Château offers 19 uniquely styled bedrooms with satellite TV.......



(Distance < 9 km)



(Distance < 10 km)Info:
The Acropole hotel is located 50 metres from the Angers Expo Centre in the town of Saint Sylvain d'Anjou. It offers an outdoor swimming pool and free Wi-Fi internet access.
The Acropole?s restaurant serves regional cuisine and guests......



(Distance < 11 km)rooms ranging from
: 48.00 Euros