Pont de normandie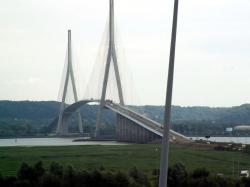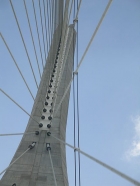 Situé entre Honfleur et Le Havre, le Pont de Normandie compte aujourd'hui parmi les attractions touristiques de la région. Avec 856 mètres de travée centrale, le Pont de Normandie, lors de son inauguration le 20 janvier 1995, était le plus grand pont à haubans du monde. Pour se faire une idée, les 856 mètres correspondent à plus de deux tours Eiffel couchées ! Record qui a été battu par la suite avec la construction du Pont Akashi Kaikyo au Japon en 1998 avec 1191 mètres de travée centrale.


Les deux grands pylônes, d'une hauteur d'environ 215 mètres, soutiennent à eux deux 184 haubans (soit 42 km au total), gainés contre toutes les intempéries (vent, pluies, etc.). Une construction qui a relevé du défi technologique et a nécessité de nombreuses innovations et fait aujourd'hui figure de référence.




Le choix du pont à haubans requiert une extrême précision de calculs et de mise en œuvre. Il a fallu faire face à des obstacles inattendus : les fondations du pylône nord ont demandé un an de travaux, du fait de la nature du terrain (une zone de terrains alluvionnaires sans aucun ancrage naturel). Un choix technologique également guidé par la volonté de préserver l'environnement de l'estuaire de la Seine et d'assurer une sécurité maximale contre les instabilités dues au vent, les différents types de catastrophes possibles (choc de navires contre les pylônes) et le vieillissement des structures. A ce titre, le Pont de Normandie représente le savoir faire du génie civil français.



Du point de vue économique, le pont contribue au développement du port du Havre et de l'estuaire de la Seine. Il rétablit l'équilibre entre ses deux rives : d'un côté Le Havre, forte de son port international, et de l'autre côté, les sites touristiques réputés d'Honfleur, Deauville et Trouville. Il revalorise la région dans l'espace économique national et européen. En effet, la « Route des Estuaires » passe par le pont de Normandie pour relier l'Espagne à la Suède. De plus, sa construction contribue à soulager le pont de Tancarville, qui commençait à saturer et présentait des signes de vieillissement.


Fleuron du BTP Français, le Pont de Normandie reste un ouvrage de référence tant sur le plan de la conception que de la mise en œuvre.



Author : Bérengère©

Nearest hotels - Pont de normandie :


(Distance < 3 km)rooms ranging from
: 46.00 Euros
Info:
B&B Hôtels, 200 hôtels bien pensés pour vous! L'hôtel B&B HONFLEUR vous propose des chambres spacieuses et confortables qui offrent une literie de qualité, un bureau, une penderie avec cintres, une télévision.Vous trouverez également une véritable......



(Distance < 3 km)rooms ranging from
: 59.00 Euros
Info:
Motel Les Bleuets offers a friendly, family atmosphere, free Wi-Fi and free bike hire. It enjoys a quiet location with easy access to the centre of Honfleur.
Guests can enjoy complimentary use of the Bleuets' spa facilities that include......



(Distance < 3 km)rooms ranging from
: 75.00 Euros
Info:
Le Belvédère is located at the gates of Honfleur, a 15-minute walk from the old port and close to the city centre. It offers cosy accommodation and a gourmet restaurant.
The hotel has 9 rooms, 4 of which are set in a small cottage. They......



(Distance < 3 km)Info:
Situated 950 metres from the city centre and the harbour, ibis Honfleur is a 24-hour reception hotel with a snack bar and rooms with a flat-screen TV and a telephone. Free Wi-Fi access is provided.
The rooms at ibis Honfleur have a......



(Distance < 3 km)Info:
Ideally located 1.5 km from Honfleur town centre, this value-for-money hotel offers comfort, good food and excellent hospitality.
Situated in pleasant garden surroundings, at the Campanile Honfleur, you are sure to enjoy a peaceful......