Porquerolles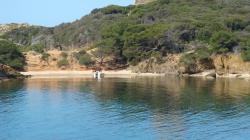 Description

Located opposite to the port of Hyères, Porquerolles is the largest of the three Golden Isles. 7 km long and 2.5 km wide Porquerolles has the ideal size : the island offers magnificent hiking and biking tracks bordered by pines, myrtles and heather...A diverse landscape is offered to the visitors: steep cliffs and coves, white sandy beaches bordered by turquoise waters and an intact Mediterranean forest. The 200 hectares of vineyards alongside the diverse landscape produce a wine of great renown.



The port welcomes you near the village of Provence, where you will discover the colorful facades of the houses. Lined with several shops and artisans, the main square shaded by giant eucalyptus awaits you for a moment of relaxation.



The Mexican style church is a demonstration of the influence of many civilizations that the island has suffered (Celtic, Ligurian, Etruscan, Greek and Roman). Built on the ruins of the ancient castle, Fort Ste Agathe also retains traces of military architecture and offers a splendid panorama over the island of Porquerolles and the bay of Hyères on the top of its 60 meters.



As to the fauna and flora, they are lovingly protected : the island is protected from construction through its affiliation with the National Park and National Botanical Mediterranean Conservatory. A true paradise!

Nearest hotels - Porquerolles :


(Distance < 2 km)rooms ranging from
: 125.00 Euros



(Distance < 2 km)



(Distance < 2 km)rooms ranging from
: 99.00 Euros
Info:
Located in Porquerolles, 400 metres from Courtade Beach, Hotel Residence Les Medes is a residence with a garden and a sun terrace. There are a gourmet-style restaurant and a bar on site.
Hotel Residence Les Medes offers self-catering,......



(Distance < 2 km)rooms ranging from
: 120.00 Euros
Info:
Just 50 metres from the port, L'Oustaou De Porquerolles offers a restaurant and bar. It features rooms with free Wi-Fi and views of the Mediterranean Sea and the village. The beach is 1 km away.
A flat-screen TV and safe deposit box is......



(Distance < 3 km)rooms ranging from
: 60.00 Euros
Info:
Set by the Chambon Lake, a 5-minute drive from the centre of Murol, Hôtel de la Grande Place offers an outdoor swimming pool and direct access to the sandy bathing area. Free Wi-Fi is provided in public areas.
All rooms feature a......