Saint nicolas cathedral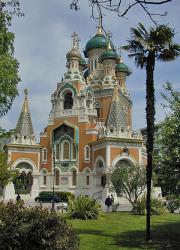 Description
Located on Boulevard Tzarevitch in Nice, the historic monument is listed since August 11, 1987.
A church should be built because of the strong Russian community in Nice during the second half of the nineteenth century. Thus in 1859 a cathedral was born rue Longchamp. However it soon became too small given the growing importance of the Russian colony. In 1903, the park Bermond, belonging to Alexander II begins the construction of the Cathedral by the architect Nicolas Stocklin. The building was inaugurated in 1912 (some years before the First World War) and gives a taste of Moscow. The Russian Orthodox Cathedral of Saint-Nicolas is a church with five domes inspired by the Cathedral of St. Basil the Blessed in Red Square in Moscow. The interior of the building has a plan in the form of a Greek cross. It is managed by a cultural association concerned also the Orthodox parish since 1923.
The garden surrounding the church should not be neglected either, as it provides the opportunity for a relaxing break after the tour and enjoy the sun or lunch quietly on the benches that adorn the tower in the park.

Nearest hotels - Saint nicolas cathedral :

(Distance < 1 km)Info:
Located just a 20-minute walk from the beach in Nice, Appartement Buenos Aires offers a view of the city, modern décor and a spa bath. Promenade des Anglais is only 4 km away.
The air-conditioned apartment features a living area with a......



(Distance < 1 km)rooms ranging from
: 65.00 Euros



(Distance < 1 km)Info:
Set just 850 metres from Promenade des Anglais and the beach, this spacious, self-catering apartment features free Wi-Fi internet and a lounge area with a flat-screen TV.
Appartement Fleurs Anne offers 3 separate bedrooms and a kitchen......



(Distance < 1 km)Info:
This apartment is situated in the centre of Nice, just 1 km from the Mediterranean Sea and the beaches. It offers a 120 m² garden with a furnished terrace and guests can also organise barbecues.
Apartment Georges Clémenceau Nice is......



(Distance < 1 km)rooms ranging from
: 45.00 Euros
Info:
A l'extrémité du quartier des artistes, à 800 m de la Promenade des Anglais, la Résidence est un ancien hôtel des années 30 aux coloris de la région. Les appartements climatisés, du studio 2 au duplex 4 personnes, sont entièrement équipés avec kitchenette (plaque vitrocéramique, micro-ondes, lave-vaisselle), salle de bains avec WC, accès Internet, télévision gratuite (accès chaines nationales et TNT)....