The cascade of sillans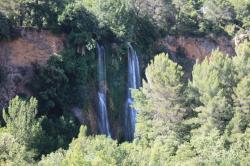 Description
The cascade of Sillans is 44 meters height. It is formed by Bresque, a river that swells with water from the source of the Castle of St. John and the torrent of Merderie. The waterfall flows into a charming lake swirling in which, unfortunately, it is forbidden to swim. It is reached by a pleasant 800-meter walk which winds between beautiful plane trees.





Nearest hotels - The cascade of sillans :


(Distance < 1 km)rooms ranging from
: 40.00 Euros
Info:
Les Pins is located in a traditional stone building just 5-minutes' walk from the waterfall in the village of Sillans-La-Cascade. It features modern accommodation with free Wi-Fi, yet with period details.
All the bedrooms at Hotel......



(Distance < 3 km)rooms ranging from
: 69.00 Euros
Info:
Logis Auberge du Grand Chêne is located in Sillans-la-Cascade, just 1 km from the waterfalls and the centre of the fortified village. You can dine at the on-site restaurant and relax on the terrace, by the garden.
All of the......



(Distance < 4 km)rooms ranging from
: 77.00 Euros
Info:
Located in Provence, this campsite is set on the banks of the river that has a natural swimming hole. It also offers a volley-ball court, table tennis and a library.
Complexe Touristique Municipal Les Arnauds is less than 5 minutes from......



(Distance < 5 km)Info:
At 4 km from the village of Cotignac (VAR-department). nestled in an estate embracing 4 hectares. this charming independent house (220 m2) surrounded by oak. pine and olive trees. This former sheep-pen of the 18th century. was restored in 2000.......



(Distance < 6 km)rooms ranging from
: 103.00 Euros
Info:
Featuring a heated swimming pool in the garden that is planted with olive trees, Mas de l'Olivette is located 18 km from Barbaroux Golf Club and 30 km from les Gorges du Verdon. You can have a continental breakfast on the south-facing terrace.