The izoard pass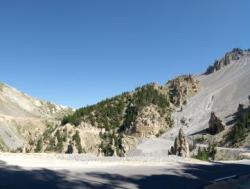 Description
The Izoard pass is a mythical place for all cycling enthusiasts. It is located in the Hautes-Alpes, between Briançon and Château-Ville-Vieille, in the Queyras Regional Natural Park.

The road which crosses it was built in 1893. It is a route which had been frequently used by cyclists in the Tour de France since 1922. This pass is famous thanks to the exploits performed by cyclists such as Gino Bartali or Eddy Merckx. It is a difficult pass where only experienced cyclists will reach the top, over 2300 meters high.

The Izoard pass is in a beautiful area. It connects the valleys of Briançon and Queyras. At its peak, is the Tour de France Museum and a biking relay. A little further down, there are two headstones placed in memory of Louison Bobet and Fausto Coppi, the heroes of the pass.

This pass is characteristic by its view over the valleys and mountains it offers at the top. This view is worth the effort that must be done to reach it. The slope of the Queyras meanwhile is typical of the area called desert Casse, a lunar landscape, covered with gravel and rocky peaks which were separated from the cliff.

The Izoard pass is a very special place where the landscape is breathtaking and where nature expresses itself freely.
Author : Amandine©

Nearest hotels - The izoard pass :


(Distance < 5 km)rooms ranging from
: 57.00 Euros
Info:
Summer or winter, we welcome you in an enchanting, unspoilt nature, away from the bustle of the big resorts: welcome to the Queyras!...



(Distance < 6 km)rooms ranging from
: 52.00 Euros
Info:
Located on the Col d'Izoard, Hôtel d'Izoard offers a sun terrace with mountain views, ski storage, and a living room with books, board games and large projector screen. The hotel is at the bottom of the cross-country ski slopes.
All......



(Distance < 7 km)rooms ranging from
: 115.00 Euros
Info:
Perched 1700 metres high in the heart of the Arvieux Valley, this peaceful and charming hotel offers a range of resort facilities, within a stunning landscape.
La Ferme de l'Izoard features comfortable rooms furnished in a cosy......



(Distance < 8 km)



(Distance < 10 km)rooms ranging from
: 400.00 Euros