The regional park of the ariege pyrenees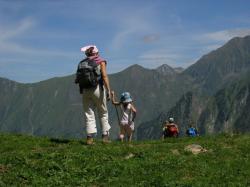 Description

The youngest French Regional Nature Park is the park of the Pyrenees ariégoises. It occupies 40% of the area of ​​the Ariege and contains 142 communes. It was created in 2009 in order to comply with the municipal development and their activities while balancing the protection of the environment.

The entire park area is mountain economy. 39 municipalities are located in the high mountains while only 1% of the land is in urban areas. The economy in the park is based on activities related to wood, particularly wood energy in accordance with the Climate Plan. Tourism is also important, but must meet the sustainable standards of the park. More than 200 km of GR and 1660 km of hiking trails and 4 ski resorts (2 for downhill skiing and 2 for cross country skiing) are practicable .
Several places of interest are to be seen in this park:


mysterious stone huts, the "Orris" of Carla and Goutets. These huts, built by the shepherds who had to endure harsh climatic conditions of the mountain, are made of dry stone, vaulted and covered with vegetation. Sometimes built up to 2000 meters above sea level, they are witnesses of the lifestyle of the ancient shepherds. Li>

The cascade of Ars : This 300-meter high waterfall, consists of three basins and was described as the most beautiful waterfall of Pyrenees mountain by climber Henry Russell. To reach it, you must walk for more than 1:30 hour but the scenery is worth the effort.


Mont Valier : called "the lord of Couserans", Mount Valier, although not exceeding 3000 meters high, is a mountain that fascinates. It hosts a unique flora and fauna and charms visitors with its diversity.
Several beautiful villages can be seen along this beautiful area. You can visit Lapège, Orus, Balacet, Irazein, Galey or St. Lizier and Tourtouse.
Website
Author : Amandine©

Nearest hotels - The regional park of the ariege pyrenees :


(Distance < 3 km)rooms ranging from
: 44.00 Euros
Info:
Once an old cheese factory, this hotel offers guest rooms and self-catering facilities with views of the garden or the river. Guests can visit the Saturday morning markets at Saint Girons, 18 km away or walk along the Arac River.
The......


(Distance < 5 km)
rooms ranging from: 60.00 Euros




(Distance < 7 km)rooms ranging from
: 43.00 Euros
Info:
Located in Massat, Hôtel Le Maxil is 37 km from Foix and 14 km from Col de Portel. It offers a terrace and a restaurant. Free Wi-Fi access is provided in public areas and in some guestrooms.
With exposed beams and stone walls, all the......



(Distance < 7 km)rooms ranging from
: 90.00 Euros
Info:
Camping le Haut Salat is set 500 metres from Seix and a 5-minute walk from Seix Château. It offers a heated swimming pool, a kids club and a snack bar in summer.
The bungalows at Camping le Haut Salat feature a private terrace area with......



(Distance < 8 km)rooms ranging from
: 48.00 Euros
Info:
Auberge Du Haut Salat is located on the main square in the village of Seix in Couserans. It offers affordable rooms with private en suite facilities and free Wi-Fi internet access.
The restaurant in Auberge Du Haut Salat serves......