The site of alesia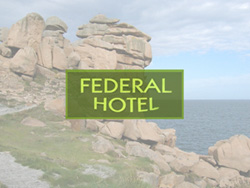 Description
In Côte d'Or, in Alise-Sainte-Reine, the Gallo-Roman site of the Battle of Alesia (52 BC) was discovered. After extensive archaeological excavations that begun on Napoleon III's orders, the site was found and identified.
The traces of a Gallo-Roman city, were found with a basilica, a temple, a forum, but also a theater and houses...

The site of Alesia had been the site of a legendary battle between the men of Vercingetorix and the Roman army in 52 BC. Vercingetorix wanted to take the Romans by surprise, but the operation failed and he was forced to retreat with his men, on the oppidum of Alesia.
From there, the Gauls could not protect themselves and they were besieged by the Roman army who built walls, fences and trenches. After more than six weeks of siege and several battles, the Gauls were hungry. Therefore, Vercingetorix was then forced to surrender to the Romans.

Today, on the site of Alesia, you will find an archaeological museum where the most beautiful pieces found during excavations can be seen. You can also see the Sainte Reine Merovingian Basilica and the imposing statue of Vercingetorix, dating from 1865, measuring 7 meters high which was erected according to Napoleon III's will.

Soon, in 2012, the MuséoParc Alesia will open its doors to visitors. You will be able to understand, in a playful way, how the siege took place, from the Gauls side as well as from the Romans side. You will also learn many things about life in the region since that time.
Website

Nearest hotels - The site of alesia :


(Distance < 4 km)rooms ranging from
: 145.00 Euros
Info:
Le Logis Abbatial is set in an early 18th-century house, in the historical medieval village of Flavigny-sur-Ozerain. It offers individually decorated rooms and a furnished garden with sweeping views of the surrounding countryside.
Each......



(Distance < 9 km)rooms ranging from
: 74.00 Euros
Info:
Nestled in the hills of Auxois, Le Verger sous les Vignes is a charming country-style establishment made up of winemaker's houses grouped around an old orchard.
The comfortable accommodation provides you with an old world style and......



(Distance < 14 km)rooms ranging from
: 60.00 Euros
Info:
Located in the historic centre of the medieval city named Semur-en-Auxois, Hôtel du Commerce offers a restaurant which serves traditional dishes, a bar and a terrace. The hotel is set in a property from the 18th century.
Rooms at Hôtel......



(Distance < 14 km)rooms ranging from
: 95.00 Euros
Info:
Hotel de la Cote d'Or is located in a former post house. Free Wi-Fi is available. Some rooms overlook the garden.
Each room in this Logis hotel is en suite and equipped with a TV.
Cote d'Or?s lunchtime tapas bar becomes a......



(Distance < 15 km)rooms ranging from
: 70.00 Euros
Info:
This Logis hotel is located in the Côte-d'Or countryside, overlooking the historic town of Semur-en-Auxois. It has an outdoor swimming pool, a garden and a gastronomic restaurant.
The Hostellerie D'aussois offers soundproofed rooms with......