The tancarville bridge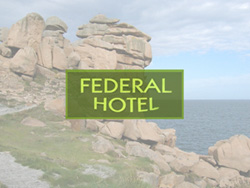 Description
Tancarville Bridge : a suspension bridge that crosses the Seine between Tancarville in the department of Seine-Maritime and Marais-Vernier in the department of Eure. At its inauguration in 1959, it was the largest suspension bridge in Europe. Today it is the largest suspension bridge in France!

The Tancarville Bridge is named after an ancient castle founded in the tenth century overlooking the right bank of the Seine.

The construction of the Tancarville bridge began in November 1955. The aim was to link the cities of Rouen and Le Havre, separated by the estuary of the Seine. The building was completed in July 1959 and then allowed free access to car traffic. This enormous project was initiated by the Chamber of Commerce and Industry of Le Havre, which played a leading role in the industrial and economic development. Indeed, trade between Rouen and Le Havre was made by ferry, and the bridge was a considerable time saving.

Some figures are engraved on the Memorial Plaque.
- 3,733,000 working hours
- 960 meters metal bays
- 1400.20 meters long
- Height of deck: 51 meters
- Height of towers: 125 meters, all in reinforced concrete
- 750 000 rivets
- 24 000 km wires with a weight of 3 000 tonnes
- Four traffic lanes
- ...
- Most importantly, no fatal accidents!

Another technical feat : as a result of the rupture of one of the 60 elementary strands of the bridge, in 1995, the ICC launched a major operation, to replace the suspension, while not stopping the traffic!
Author : Bérengère©

Nearest hotels - The tancarville bridge :


(Distance < 1 km)rooms ranging from
: 75.00 Euros
Info:
La Marine, moored on banks of the Seine and at the foot of the Tancarville Bridge, is a hotel with a culinary tradition going back almost a century.
La marine offers a comfortable accommodation with 9 bedrooms decorated with in a rustic......



(Distance < 8 km)Info:
Located in the Upper Normandy region, this half-timbered house offers B&B accommodation an 8-minute drive from Plessis-Bouquelon Castle. It offers free Wi-Fi access, a garden and a wooden terrace with a sauna and a hot tub.
All the......



(Distance < 8 km)rooms ranging from
: 44.00 Euros
Info:
A 19th-century building set in the centre of Lillebonne, Hôtel de France offers a bar that opens up to the terrace, and a restaurant. Wi-Fi is free of charge in the entire property.
The rooms at Hôtel de France feature a flat-screen TV,......


(Distance < 8 km)rooms ranging from
: 44.00 Euros
Info:
Hôtel La P?tite Auberge is located in Lillebonne. The hotel features a restaurant that serves French dishes, a bar and a terrace. The rooms have a flat-screen TV with satellite and Canal + channels.
All of the rooms at Hôtel La P?tite......



(Distance < 8 km)rooms ranging from
: 72.00 Euros
Info:
Hôtel Pascal Saunier is located in Notre-Dame de Gravenchon, and features free Wi-Fi access and an on-site restaurant open from Monday to Friday. It is a 30-minute drive from Le Havre, Honfleur and Etretat.
Each room includes a TV with......