Viaduc de garabit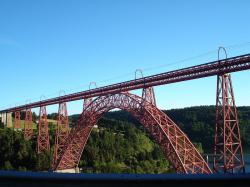 Le viaduc de Garabit est un ouvrage monumental construit par le visionnaire Gustave Eiffel en 1880. En plein cœur du Cantal, entre Béziers et Neussargues, ce viaduc de métal permet de franchir les gorges de la Truyère.



Le projet fut lancé par Léon Boyer, un jeune ingénieur désireux de faire construire un tracé direct pour franchir la Truyère. Un pont suspendu ne pouvait pas être construit ici à cause des oscillations, Léon Boyer s'inspira donc du viaduc de Maria Pia au Portugal, construit par Eiffel en 1877. C'est donc naturellement que l'on fit appelle à Gustave Eiffel pour construire le Viaduc de Garabit.

Eiffel prit modèle sur le viaduc de Maria Pia pour élaborer celui de Garabit puisque les contraintes étaient les mêmes : enjamber la vallée grâce à une gigantesque arche. A cette époque, la région était complètement isolée, il fut donc très complexe d'acheminer les tonnes de métal produites à Levallois-Perret jusqu'au lieu-dit du Garabit.

Pour construire cette arche monumentale, plus de 400 ouvriers furent embauchés, on fit alors construire un village pour les accueillir pendant la construction qui a duré 4 ans . En 1884, le viaduc est terminé, il est le plus grand ouvrage métallique du monde, son arche culmine à plus de 100 mètres de hauteur.

Outre l'importance de cet édifice, le viaduc de Garabit fut également un test « grandeur nature » en vue de la construction de la Tour Eiffel sur le Champs de Mars à Paris. Les techniques de construction et les matériaux furent les mêmes, Eiffel a réalisé un exploit humain et technique, qu'il souhaite renouveler avec sa tour de plus de 300 mètres de hauteur !

Aujourd'hui, le viaduc de Garabit est toujours aussi beau, habillé de son rouge poinsettia, il revêt ses habits de lumière à la nuit tombée. Garabit est un ouvrage d'art impressionnant, qui jouit d'un environnement touristique de grande qualité : Saint-Flour la cité médiévale, les gorges de la Truyère ou encore le lac du barrage de Grandval qui offre de nombreuses possibilités d'activités de pleine nature (canoë, voile, randonnées pédestres ou équestres, vtt, escalade, baignade...)
Copyright Photo : Jon Lanthanberg
Website
Author : Amandine©

Nearest hotels - Viaduc de garabit :


(Distance < 1 km)rooms ranging from
: 46.00 Euros
Info:
Our hotel is situated at the foot of the Garabit viaduct, at the edge of the lake and close to the water sports centre. The Garabit Hotel ensures a warm welcome, provides refined cuisine, and promises to do everything within its power to make your stay ...



(Distance < 1 km)Info:
Close to the viaduct built by Eiffel (illuminated at night since 2001, a marvellous spectacle), the Beau-Site restaurant has the best view of the viaduct and the lake. Top quality hotel facilities, with heated swimming pool, tennis court and superb gardens. ...



(Distance < 1 km)rooms ranging from
: 70.00 Euros
Info:
In the picturesque Auvergne region, the Logis Le Panoramic boasts spectacular views over the beautifully preserved surrounding countryside.
Rooms are equipped with modern en suite facilities, and present smart and functional living......



(Distance < 5 km)rooms ranging from
: 45.00 Euros
Info:
Hôtel du Bout du Monde is located in the Auvergne region, a 10-minute drive from both the town of Saint Flour and access to the A75 motorway. It features free Wi-Fi access, an indoor swimming pool and an on-site restaurant with a panoramic view of......



(Distance < 7 km)rooms ranging from
: 135.00 Euros
Info:
Château de Varillettes is situated in Saint-Georges, 5.6 km from the village of Saint-Flour. This 15th-century chateau sits on a 1 hectare park, which features a medieval garden, a heated swimming pool and a tennis court.
Rooms in the......