Viaduc de garabit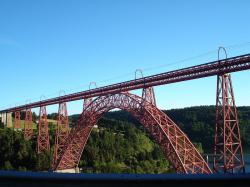 Le viaduc de Garabit est un ouvrage monumental construit par le visionnaire Gustave Eiffel en 1880. En plein cœur du Cantal, entre Béziers et Neussargues, ce viaduc de métal permet de franchir les gorges de la Truyère.



Le projet fut lancé par Léon Boyer, un jeune ingénieur désireux de faire construire un tracé direct pour franchir la Truyère. Un pont suspendu ne pouvait pas être construit ici à cause des oscillations, Léon Boyer s'inspira donc du viaduc de Maria Pia au Portugal, construit par Eiffel en 1877. C'est donc naturellement que l'on fit appelle à Gustave Eiffel pour construire le Viaduc de Garabit.

Eiffel prit modèle sur le viaduc de Maria Pia pour élaborer celui de Garabit puisque les contraintes étaient les mêmes : enjamber la vallée grâce à une gigantesque arche. A cette époque, la région était complètement isolée, il fut donc très complexe d'acheminer les tonnes de métal produites à Levallois-Perret jusqu'au lieu-dit du Garabit.

Pour construire cette arche monumentale, plus de 400 ouvriers furent embauchés, on fit alors construire un village pour les accueillir pendant la construction qui a duré 4 ans . En 1884, le viaduc est terminé, il est le plus grand ouvrage métallique du monde, son arche culmine à plus de 100 mètres de hauteur.

Outre l'importance de cet édifice, le viaduc de Garabit fut également un test « grandeur nature » en vue de la construction de la Tour Eiffel sur le Champs de Mars à Paris. Les techniques de construction et les matériaux furent les mêmes, Eiffel a réalisé un exploit humain et technique, qu'il souhaite renouveler avec sa tour de plus de 300 mètres de hauteur !

Aujourd'hui, le viaduc de Garabit est toujours aussi beau, habillé de son rouge poinsettia, il revêt ses habits de lumière à la nuit tombée. Garabit est un ouvrage d'art impressionnant, qui jouit d'un environnement touristique de grande qualité : Saint-Flour la cité médiévale, les gorges de la Truyère ou encore le lac du barrage de Grandval qui offre de nombreuses possibilités d'activités de pleine nature (canoë, voile, randonnées pédestres ou équestres, vtt, escalade, baignade...)
Copyright Photo : Jon Lanthanberg
Website
Author : Amandine©

Nearest hotels - Viaduc de garabit :


(Distance < 1 km)rooms ranging from
: 55.00 Euros
Info:
Garabit Hotel is located in the Cantal countryside on the river Truyère, overlooking the Garabit viaduct. The hotel has an all-weather swimming pool, garden and a children's playground.
All guestrooms at the Garabit have lift access,......



(Distance < 1 km)rooms ranging from
: 56.00 Euros
Info:
The Beau Site is located in Loubaresse, in the Auvergne region. It features a heated outdoor swimming pool, a tennis court and gastronomic dining with stunning views of the Garabit Viaduct.
All rooms at Beau Site have a flat-screen TV......



(Distance < 3 km)rooms ranging from
: 79.00 Euros
Info:
Offering a children's playground and views of the garden, Hôtel La Méridienne is set in Anglards-de-Saint-Flour in the Auvergne Region, 35 km from Blesle. Guests can enjoy the on-site restaurant. Free private parking is available on site.



(Distance < 5 km)Info:
This 2-star hotel is located in Faverolles, in the Auvergne region, just 6 km from the Garabit viaduct. Guests can relax on the furnished terrace and enjoy the on-site bar and restaurant. Free private parking is also provided.
All the......



(Distance < 5 km)rooms ranging from
: 58.00 Euros
Info:
Hôtel du Bout du Monde is located in the Auvergne region, a 10-minute drive from both the town of Saint Flour and access to the A75 motorway. It features free Wi-Fi access, an indoor swimming pool and an on-site restaurant with a panoramic view of......