Wuestenberg or wotan mountain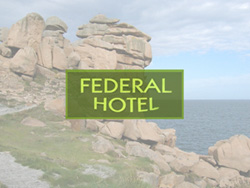 Description
The Saverne forest has a rock plateau called Wuestenberg or "Wotan mountain" evoking Germanic mythology. Indeed, Wotan, also known as Odin, is the chief god in Norse mythology: it is the god of knowledge, of victory and death. The word " Wuestenberg", refers to the mountain of the deserts or the mountain of anger or even battlefield. It is a place where alternate life and death, anger and reconciliation.

This 1-km-long north/south plateau is between twenty and one hundred meters large, and overlooks the natural corridor between Alsace and Lorraine. 30-meter-high cliffs surround the plateau, except in the north. Indeed, at this point the plateau is strengthened by a pagan wall built of dry stone, 1.5 meters thick and 1 meter wide.

The site contains many remains which show the presence of Celts in the fifth and sixth centuries BC. In 1850, A. Goldenberg discovered fragments of Gallo-Roman millstones and tiles as well as ceramics dating from La Tene. Remains are still visible on this site invaded by forest, mossy vegetation and beautiful oaks. In 1997, Mr. Châtelet discovered the reuse of grave stones in the Gallo-Roman walls of the enclosure, and established that Wüstenberg was a pre-Roman structure that was remodeled during the Vth and VIth centuries AC. The structure was later dismantled, during the Middle Ages when the Ochsenstein castle was built.

A magnificent oak stands in the middle of the forest and is considered as a totem. Beside it, lies the Stone of the Druids, a rock placed intentionally with a large pond, 80 cm wide and 40 cm deep.

It is a quiet and mysterious place where you can easily stroll.
Author : Bérengère©

Nearest hotels - Wuestenberg or wotan mountain :


(Distance < 4 km)rooms ranging from
: 68.00 Euros
Info:
Located a 3-minute drive from the centre of Saverne, this hôtel de charme features en suite rooms, a restaurant and a wellness centre. Free private parking is available on site and Wi-Fi access is provided at an additional cost.
With a......



(Distance < 5 km)rooms ranging from
: 47.00 Euros
Info:
Located at the edge of the forest, this B&B is a 15-minute drive from Saverne TGV Train Station. It is set in a garden and offers rooms for up to 6 people with breakfast including homemade baked goods.
Each guest room and suite at......



(Distance < 5 km)rooms ranging from
: 40.00 Euros
Info:
Situated within 600m² of private gardens, La Petite Source offers a guest room and a self-catering apartment with free Wi-Fi access. The guest house is 9 km from Rocher de Dabo, 22 km from Sarrebourg and 45 km from Strasbourg.
The......



(Distance < 6 km)Info:
Located in Saverne, this campsite is just 1.7 km from Rohan Castle. It offers self-catering lodges and an on-site grocery. Free private parking is possible on site and free Wi-Fi is available in some of the accommodations.
All of the......



(Distance < 6 km)rooms ranging from
: 75.00 Euros
Info:
The Hotel Logis is located in a former hunting lodge in Birkenwald, 35 km from Strasbourg. It combines en suite accommodation with spa facilities including a hammam, sauna and indoor swimming pool.
Each room has its own private......