Arc de triomphe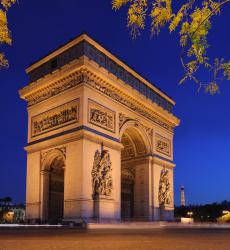 Description
Place Charles de Gaulle
75008 Paris
The « Arc de Triomphe » is located at the border of the eighth, sixteenth and seventeenth districts in the centre of the "Place Charles de Gaulle".
Ordered by Napoleon in 1806 in order to commemorate the victories of the "Great Army", the building was not completed until 1836, after the death of the general, on the demand of King Louis-Phillipe.
The names of the generals who guided the troops of Napoleon are sculpted in the walls of the monument.
The Arc was created by Jean Chalgrin. Its sculptures depict the victories of the Aboukir battle, the battle against the Turcs, the Austerlitz battle… as well as some allegories such as "la Marseillaise", "la Paix".
The Arc holds the tomb of the unknown soldier, symbol of all soldiers killed during the First World War. This monument became the image of patriotic
memory, as the unknown soldier is celebrated every year on the eleventh of November.
Twelve streets begin from the Arc and form the shape of a star. One can admire a beautiful view from the top of the monument.

Author : Bérengère©

Nearest hotels - Arc de triomphe :

(Distance < 1 km)Info:
Mac Mahon offers elegant accommodation 50 meters from 2 of Paris' icons: the Arc de Triomphe and Avenue de Champs Elysées. It features a striking Empire-revisited décor in a Napoleon-era neighbourhood.
Facing a quiet courtyard, rooms at......



(Distance < 1 km)Info:
This residence is located 130 metres from the Arc de Triomphe and 280 metres from the Champs-Elysées. It offers fully-equipped studios and apartments with free Wi-Fi internet access.
All the studios and apartments at the Adagio Access......



(Distance < 1 km)rooms ranging from
: 65.00 Euros
Info:
The Hotel Troyon is located off the Champs Elysées, near the Arc de Triomphe, not far from the most beautiful and famous avenue in the world with its various restaurants and shops. ...



(Distance < 1 km)rooms ranging from
: 198.00 Euros
Info:
The Napoleon Paris hotel is located just a short walk to the Arc de Triomphe and Champs-Elysees. It offers individually designed rooms with modern comforts.
Rooms and suites overlook the quiet Avenue de Friedland or the hotel's green......



(Distance < 1 km)Info:
The hotel Elysées Paris is situated in the heart of Paris business, leisure and shopping.Only 250 meters from Arc de Triomphe, and a few steps from Champs-Elysées and Porte Maillot Congress. ...