Les catacombes de paris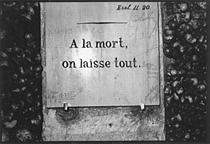 Les catacombes de paris
1, place Denfert-Rochereau
75000
Paris
Tel.: 01 43 22 47 63
Unusual places




1, place Denfert-Rochereau
75014 Paris

Si notre capitale reste un véritable témoin de l'Histoire et de l'évolution géographique, Paris est également posée sur environ 350 kilomètres de galeries souterraines, telle une immense ville sur pilotis. L'immense réseau labyrinthique sur lequel la ville repose a été nommé « catacombes », terme poétiquement utilisé pour nommer l'ossuaire municipal.

Les Catacombes de Paris sont d'anciennes carrières souterraines dont les pierres servirent à la construction de la capitale. A 20 mètres sous la surface du 14e arrondissement s'étalent 350 kilomètres de galeries dans lequel ont été entassés les ossements de plus de 6 millions de parisiens depuis la fin du XVIIIe siècle. A cette époque, le cimetière des Innocents, dans lequel s'entassent depuis près de 10 siècles les dépouilles de centaines de générations, est devenu un foyer d'insalubrité. Un arrêt du Conseil d'État du 9 novembre 1785 décide la suppression du cimetière des Innocents avec évacuation des ossements.

Le lieu-dit « la Tombe-Issoire » situé sous la plaine de Montsouris est alors choisi comme emplacement pour déposer les ossements. Cet espace d'une superficie de 11 000 m2 est aménagé pour recevoir cet ossuaire, et prend le nom de catacombes. Les nécropoles souterraines antiques romaines sont une large source d'inspiration pour ces catacombes. Il faut compter une quinzaine de mois pour effectuer le transfert des ossements du cimetière des Innocents vers les catacombes. Le transfert se passe selon un rite religieux scrupuleux, à la tombée de la nuit : des chars funéraires couverts de voiles noirs sont précédés de chœurs de religieux suivis de prêtres chantant l'office des morts.

Les catacombes sont inaugurées en 1786.

Face au succès de cette opération de salubrité publique, l'administration étend la mesure : de 1787 à 1814, d'autres cimetières parisiens, et notamment ceux situés autour des églises, furent supprimés à leur tour, et leurs ossements déplacés vers les catacombes.

Lors d'une visite des catacombes, on découvre les ossements de personnages célèbres tels que La Fontaine, Rabelais, l'homme au masque de fer, Jean-Baptiste Lully, Racine, Danton, Lavoisier et Robespierre.

Véritable monument parisien qui dépend du musée Carnavalet, ce musée est une étape obligatoire pour découvrir l'Histoire de la capitale.
Website
Author : Bérengère©


Themes of collections - Les catacombes de paris
Archeologie nationale : Médiéval Ethnologie (Sculptures populaires de la forteresse de Port-Mahon),


Schedules - Les catacombes de paris
Du mardi au dimanche de 10 heures à 17 heures, dernière descente à 16 heures
Prévoyez un brin d'attente : l'accès est limité à 200 visiteurs à la fois


Rates - Les catacombes de paris
7 €, Tarif Réduit : 3,50 €


Tourism information - Les catacombes de paris
Access : Bus (lignes 38 - 68) Métro / RER (Station Métro : Denfert-Rocherau. RER B station Denfert-Rochereau)


Nearest hotels - Les catacombes de paris :


(Distance < 1 km)Info:
This hotel is located in the south of Paris, right next to Denfert-Rochereau Square and Metro Station. It provides soundproofed rooms with free Wi-Fi, private bathroom and satellite TV.
All of the rooms at the Hotel Du Lion are......


(Distance < 1 km)rooms ranging from
: 65.00 Euros
Info:
Hôtel Du Midi Paris Montparnasse is located near place Denfert-Rochereau in the Montparnasse district, 1.4 km from Montparnasse Tower. It offers free Wi-Fi throughout the hotel.
Each air-conditioned room includes a flat-screen TV with......



(Distance < 1 km)Info:
This colonial residence sits on Paris left bank of the River Seine, near the Place Denfert Rochereau and Gare Montparnasse. Villa Montparnasse offers stylishly decorated and furnished accommodation.
Guestrooms have been designed to......


(Distance < 1 km)rooms ranging from
: 79.00 Euros



(Distance < 1 km)rooms ranging from
: 95.00 Euros
Info:
Named after the 18th-century mathematician, Hôtel Sophie Germain is a 1-minute walk from Mouton-Duvernet Metro station. It offers free newspapers and contemporary rooms with free Wi-Fi access.
A minibar and an LCD TV with satellite......