The gardens of the trocadero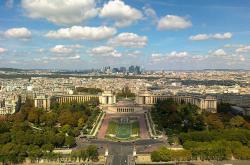 Description
Place du Trocadéro et du-11-Novembre
Avenue de New York
75016 Paris

The Gardens of the Trocadero were born in the occasion of the Universal Exhibition of 1878. The architect Alphand was leader of the project which was a part of the environmental and urban policy Napoleon the Third and Haussman had organised. Napoleon's aim was to make out of these parks a symbol of social harmony.

Nowadays the palace of Chaillot contains the "theatre de Chaillot" (ex Theatre of Paris), the cinematheque, the museum of Human and the museum of the Navy. The total surface of the gardens is of 93 930 square meters and different tree species as Caucasian nut tree, Virginian tulip tree, centenary nut tree occupy green spaces.

Located at the centre of the park, the fountain of Warsaw offers a spectacle of lights and jets of water after the sunset. A series of stacked basins dominate the widest one. Its 20 water canons jet 8 240 cube meters of water per hour which form 56 water showers ending their rush into 8 water stairs.

The gardens are ornamented with sculptures, amongst them "the Man" by Traverse or "The Woman" by bacqué which overhang the basins.
These sculptures quickly became models for the capital's students of Arts.

Author : Amandine©

Nearest hotels - The gardens of the trocadero :


(Distance < 1 km)Info:
Located on the River Seine?s right bank, Hotel Sezz is 900 metres from the Eiffel Tower. This 4-star design hotel offers you free access to its hot tub and hammam.
Decorated in a contemporary style, rooms at Sezz feature exposed stone......



(Distance < 1 km)rooms ranging from
: 130.00 Euros



(Distance < 1 km)rooms ranging from
: 128.00 Euros
Info:
Passy-Eiffel ... the tremendous charm of a 3-star hotel in a prestigious residential setting.High speed internet access in room quintessentially Parisian elegance.A stone's throw from the Eiffel Tower, the Trocadero,the Champs Ely...



(Distance < 1 km)rooms ranging from
: 100.00 Euros
Info:
Hotel Gavarni is located a short walk to the Eiffel Tower in Paris. It offers free Wifi access and is the first independent hotel in Paris with the European Ecolabel.
Hotel Gavarni features 21 comfortable rooms and 4 luxurious suites.......



(Distance < 1 km)rooms ranging from
: 139.00 Euros
Info:
Set in an 18th-century building, this 4-star hotel overlooks the Gardens of the Trocadero. Some rooms offer views of the Eiffel Tower, which is a 7-minute walk away.
Each air-conditioned room includes a flat-screen TV, a minibar and......