Musée bourdelle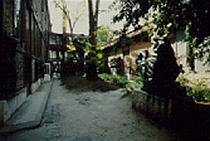 Musée bourdelle
16 rue Antoine Bourdelle
75015
Paris
Tel.: 01 49 54 73 73




C'est en 1949, dans les ateliers et les jardins où Antoine Bourdelle (1861-1929) a vécu et travaillé, que le musée ouvre ses portes grâce à la détermination et à la générosité de Madame Bourdelle et de sa filllle Rhodia Dufet-Bourdelle. Plus quelques acquisitions et quelques donations. Les campagnes successives d'aménagement ont su préserver la poésie du dernier "sanctuaire d'art de Montparnasse".
Website


Services - Musée bourdelle
jardin accessible au public ; bibliothèque ou centre de documentation ouvert au public ; photothèque ouverte au public ; aides à la visite : audioguidage services commerciaux : librairie, carterie


Themes of collections - Musée bourdelle
Beaux-Arts : Dessin, Peinture, Sculpture


Architecture - Musée bourdelle
le musée a été agrandi en 1992 par l'architecte Christian de Portzamparc.


Main interests - Musée bourdelle
Peintures, plus de cinq cents plâtres, marbres et bronzes toutes oeuvres de Bourdelle qui fut élève de Rodin, le maître de Giacometti, de Germaine Richier et de Vieira da Silva.. Dans la collection personnelle de Bourdelle, il y a une série intéressante de peintures de Botticelli.


Equipments - Musée bourdelle
Monte-charge ; Vestiaire Auditorium : 20 places Ascenseur aux normes handicapés Toilettes aux normes handicapés Circulation fauteuils roulants : salles expositions (totale), services commerciaux (totale)


Activities - Musée bourdelle
2 exposition(s) temporaire(s) par an ; exposition(s) itinérante(s) visites guidées : générales, en langues étrangères accueil des scolaires : visites, classes culturelles ateliers du musée, pour enfants


Schedules - Musée bourdelle
du mardi au dimanche de 10 H à 17 H 40. Fermeture annuelle : lundi et jours fériés. Visite sur rendez-vous : Oui


Rates - Musée bourdelle
- Spécifique : (expositions temporaires) - Gratuité : (adultes et enfants tous les jours) Abonnement : oui. Cartes de l'Association inter musées Formules privilégiées : oui. Cartes inter musées. Carte musées-monuments permet la visite (collections permanentes) de 70 musées et monuments à Paris et en Ile-de-France, tarifs : 1 jour, 3 jours, 5 jours, contact tél. : 33 (0)1 44 61 96 60, www.intermusees.com


Tourism information - Musée bourdelle
Access : Bus (48 91 92 94 95 96) Métro / RER (Montparnasse-Bienvenue et Falguière)
Sites to see : Musée de la Poste.


Nearest hotels - Musée bourdelle :


(Distance < 1 km)rooms ranging from
: 97.00 Euros



(Distance < 1 km)Info:
Sèvres-Montparnasse is located in Paris' 15th district, just 160 metres from Falguire Metro Station. It offers 24-hour reception and en suite guest rooms with free Wi-Fi access and cable TV.
The soundproofed guest rooms are decorated in......



(Distance < 1 km)rooms ranging from
: 89.00 Euros
Info:
The Miramar hotel is just 120 metres from Montparnasse Tower and Metro Station. It offers free Wi-Fi access in public areas and 24-hour reception.
All guest rooms are soundproofed and have a TV with cable channels. Each room has its own......



(Distance < 1 km)rooms ranging from
: 149.00 Euros
Info:
Plan de travail, Double-vitrage, Lit bébé, Chambres non fumeur, Réveil, Coffre individuel, Sèche-cheveux, Climatisation, Câble/satellite, Canal+, Télévision, Mini-bar, Accès internet, Téléphone ...



(Distance < 1 km)Info:
The Timhotel Montparnasse enjoys a convenient location at the foot of the Montparnasse Tower, opposite the main station in a vibrant part of Paris.
The comfortable rooms are equipped with free Wi-Fi and satellite TV. The en suite......