Musée d'orsay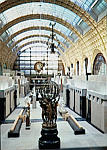 Musée d'orsay
1, rue de Bellechasse
75000
Paris
Tel.: 01 40 49 48 14




Le musée a bénéficié du regroupement des collections du musée du Louvre, postérieures à 1848, et de celles du musée national d'art moderne, antérieures à 1918, auxquelles se sont ajoutées le nombre important de peintures achetées par l'Etat durant cette période, et conservées dans les musées de province.
Website


Services - Musée d'orsay
bibliothèque ou centre de documentation ; photothèque ; aides à la visite : audiovisuel (dans les salles), audioguidage services commerciaux : librairie, carterie, boutique, restaurant, cafétéria


Art Exhibitions - Musée d'orsay
Bonnard, Carpeaux, Daumier, Guimard, Lalique, Manet, Millet, Monet, Renoir, Rodin, Sisley, Seurat, Toulouse-Lautrec, Van Gogh, Vuillard, Rodin, Maillol, Carpeaux, GUimard, Lalique.


Themes of collections - Musée d'orsay
Architecture et urbanisme Arts décoratifs : Céramique, Mobilier, Verrerie Arts du spectacle Beaux-Arts : Dessin, Peinture, Sculpture Autres collections : Photographie Histoire


Architecture - Musée d'orsay
le musée est installé dans l'ancienne gare d'Orsay. Les travaux de transformation de la gare, construite en 1900 par Victor Laloux, se sont échelonnés de 1978 à 1986 sous la direction des architectes Colboc, Bardon et Philippon pour la restauration extérieure et Gae Aulenti pour la transformation intérieure. La grande nef de la gare a été réutilisée comme axe principal du parcours du musée.


Main interests - Musée d'orsay
Tous les courants de la peinture française de 1848 à 1914, du réalisme au post-impressionnisme.


Equipments - Musée d'orsay
Air conditionné ; Monte-charge ; Vestiaire Auditorium : 350 places Ascenseur aux normes handicapés Toilettes aux normes handicapés Circulation fauteuils roulants : salles expositions (totale), services commerciaux (partielle)


Activities - Musée d'orsay
6 expositions temporaires par an visites guidées : générales, thématiques, enfants, handicapés, autres visites, en langues étrangères accueil des scolaires : visites, ZEP conférences, 15 concert(s), 10 projection(s), 2 spectacle(s) par an


Schedules - Musée d'orsay
Mardi, mercredi, vendredi, samedi de 10 H à 18 H. Dimanche de 9 H à 18 H . Jeudi de 10 H à 21 H 45.
Du 20 juin au 20 septembre ouverture dès 9h.
Gratuit le premier dimanche du mois.
Fermeture annuelle : Lundi .
Ouvert toute l'année : Oui


Rates - Musée d'orsay
- Réduit : 18-25ans, fonctionnaires, amis des musées, chèques-vacances
- Spécifique : tarif unique le dimanche
- Gratuité : (jusqu'à 18 ans , chômeurs, enseignants, écoles d'art)
Abonnement : oui.
Carte blanche du Musée d'Orsay.
Formules privilégiées : oui.
Carte musées-monuments permet la visite (collections permanentes) de 70 musées et monuments à Paris et en Ile-de-France, tarifs : 1 jour, 3 jours, 5 jours


Tourism information - Musée d'orsay
Access : Parc de stationnement : Deligny(sur les berges), Montalembert, Concorde, Invalides Bus : Lignes 24, 63, 68, 69, 73, 83, 84, 94 Métro / RER : Métro ligne 12, station : Solférino ou rue du Bac. RER ligne C, station : Musée d'Orsay Taxis : rue de Solférino et place Henry de Montherlant
Sites to see : Musée de la Légion d'Honneur. Musée du Louvre. Musée de l'Orangerie. Galerie du Jeu de Paume. Musée Rodin.


Nearest hotels - Musée d'orsay :


(Distance < 1 km)rooms ranging from
: 166.00 Euros
Info:
This 18th-century hotel is set in the centre of Paris, it is located a few walking minutes from the elegant Saint-Germain-des-Prés district and 750 metres from Musuem D'Orsay and the Seine River.
The Hôtel Duc de Saint-Simon offers......



(Distance < 1 km)Info:
This self-catering studio is located in the heart of Paris' 7th district, 150 metres from Boulevard Saint-Germain. It is light and airy and features a sloped ceiling and exposed wooden beams.
Appartement 5 Rue Paul-Louis Courier is......



(Distance < 1 km)Info:
Entirely decorated by the famous designer Christian Lacroix, the Bellechasse Saint-Germain presents stylish and arty accommodation in the chic and trendy 7th Arrondissement, 400 metres from Solferino Metro station.
The rooms at the......



(Distance < 1 km)rooms ranging from
: 120.00 Euros
Info:
The charming hotel is a beautiful 18th-century building renovated to provide modern comfort. Set on Paris left bank, it offers elegant air-conditioned accommodation, a few steps from the Orsay Museum.
The Orsay?s interior is......



(Distance < 1 km)rooms ranging from
: 109.00 Euros
Info:
Plan de travail, Double-vitrage, Lit bébé, Lit enfant, Chambres non fumeur, Réveil, Radio, Coffre individuel, Sèche-cheveux, Câble/satellite, Télévision, Accès internet, Téléphone ...