Musée des blindés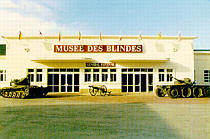 Musée des blindés
route de Fontevraud
49400
Saumur
Tel.: 02 41 53 06 99




Conservation des engins blindés français et étrangers depuis leur première apparition sur les champs de bataille de 1917 à nos jours. La plus importante collection de chars en Europe (200) dont 150 en état de marche et 600 engins blindés en réserve. Collections de maquettes. Salles consacrées à la présentation des deux conflits mondiaux.
Website


Services - Musée des blindés
bibliothèque ou centre de documentation ; photothèque ; médiathèque , carterie, boutique


Themes of collections - Musée des blindés
Collections militaires : Armes, Uniformes, Armures, Véhicules (chars et canons.) Autres collections : Archives papier, Photographie, Plans Histoire : Histoire militaire


Main interests - Musée des blindés
Les trois premiers chars employés en 1917 : St Chamond, Schneider, Renault FT17. Les principaux engins de la 2ème Guerre Mondiale, français (campagne de 1940), Allemands et Alliés. Collections de blindés modernes de 1945 à nos jours.


Equipments - Musée des blindés
Ascenseur aux normes handicapés Circulation fauteuils roulants : salles expositions (partielle), services commerciaux (totale)


Schedules - Musée des blindés
Tous les jours de 9h à 12h et de 14h à 18h. Fermeture annuelle :


Rates - Musée des blindés
- Réduit : (groupes de plus de 10 personnes) - Spécifique : (enfant de 7 à 13 et adhérents.) Formules privilégiées : Oui. Carte intersite avec le musées du Château de Saumur, le musée du champignon, l'Ecole Nationale d'Equitation, les caves de Saumur.


Tourism information - Musée des blindés
Access : Parc de stationnement (à proximité) Gare desservie
Sites to see : Musée du Château de saumur. Musée de la Cavalerie.


Nearest hotels - Musée des blindés :


(Distance < 2 km)rooms ranging from
: 89.00 Euros
Info:
Close to the town centre, the hotel Anne D'Anjou is overlooking the river and has a view of the chateau above.
The hotel has been restructured throughout and now has 45 rooms offering three-star comfort and facilities. Five of these......



(Distance < 2 km)rooms ranging from
: 50.00 Euros
Info:
Located in the heart of Val de Loire, in the city centre of Saumur, the Cristal Hotel is just a few steps away from the castle and the areas historic monuments.
This stylish hotel has a great location providing some of the rooms with......



(Distance < 2 km)Info:
Located in Saumur town centre, Hotel Saint-Pierre is next to the Loire River at the foot of Chateau de Saumur. It offers air-conditioned rooms with satellite TV and free Wi-Fi.
The Saint-Pierre?s bar offers an extensive whisky selection......



(Distance < 2 km)rooms ranging from
: 56.00 Euros
Info:
Le Volney is a small but cosy hotel with 14 personalised rooms.The environment is warm and the atmosphere friendly. Every guest is received with all attention deserved.
From a very quiet area in the center of the city, you can walk and......



(Distance < 2 km)rooms ranging from
: 80.00 Euros
Info:
Located in the Loire wine growing region, Ami Chenin dates from the 18th Century. It is just a 5-minute walk to Gratien Meyer Wine House and 3 km away from Château de Saumur.
Decorated in a traditional, country style, the rooms feature......