The eiffel tower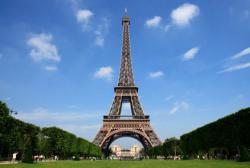 Description
Opens everyday from 9.30 a.m. to 11 p.m.
« Bergère Ô Tour Eiffel le troupeau de ponts bêle ce matin ». Guillaume Apollinaire compared bridges to sheep and the Eiffel Tower to a shepherd.
The tower has been looking on citizens for more than hundred years.
Its construction was decided to celebrate the Universal Exposition of 1889.
With its 300 metres, it rapidly became a universal symbol.
It took 21 months for Gustave Eiffel and his 50 engineers to assemble 18 000
pieces of iron with the help of 132 workers. It was decided that the tower should last for 20 years. The tower kept on its feet due to science : Gustave Eiffel encouraged radio transmission researches by proposing to use the tower as an antenna.

Nevertheless, the beginning of the history of the Eiffel Tower was not so easy, as many artists severely criticized it. Despite these problems, more than 20 millions of tourists came to see the "Great Lady" in one century…
Book a sunny day to climb the stairs of the 2 first floors, then take the lift to reach the third one… and enjoy the view!


Nearest hotels - The eiffel tower :


(Distance < 1 km)rooms ranging from
: 220.00 Euros
Info:
The Pullman Paris Tour Eiffel enjoys a fantastic location next to the Eiffel Tower and boasts magnificent views. Free Wi-Fi is available.
Rooms at the Pullman Paris have air conditioning, satellite TV and a minibar. Most of the rooms......



(Distance < 1 km)Info:
This self-catering apartment is located in the 7th district of Paris and features a view of the Eiffel Tower, which sits just 350 metres away. The apartment features lift access and free Wi-Fi internet access is provided.
There is a......



(Distance < 1 km)rooms ranging from
: 350.00 Euros
Info:
Located 350 metres from Champs de Mars and 450 metres from Tour Eiffel, Appartement Coeur de Paris Tour Eiffel offers an elegant, 3-bedroom apartment which features a balcony with a view of the city. Free Wi-Fi access is provided.
After......



(Distance < 1 km)rooms ranging from
: 142.00 Euros
Info:
This Paris hotel is located just a 2-minute walk from the Eiffel Tower, near Trocadéro and the River Seine. It offers a fitness centre, a garden and a bar.
The air-conditioned guest rooms at the Mercure Paris Centre Tour Eiffel are......



(Distance < 1 km)rooms ranging from
: 159.00 Euros
Info:
This 4-star hotel boasts a tremendous location, within a stone?s throw of the Champs- Élysées and of the Eiffel Tower. Free Wi-Fi access is provided.
Derby Alma welcomes you in a refined and cosy setting. Start the day with a breakfast......