Jardin du luxembourg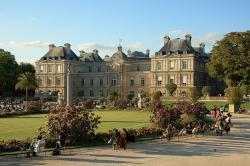 Description
75006 Paris

Timetable:
Opens from 7.30 a.m.to 9.30 p.m. during summer
Opens from 8.15 a.m. to 5 p.m. during winter

In 1617 Marie de Medicis asked the help of Boyeau de la Barraudiere to create the garden. It was not before 1820 that the garden was opened to the public, under the reign of Louis XVIII.
This garden gives the feeling of greatness and prestige. A bandstand and a roundabout with wooden horses were inherited from the 19th Century. Game areas are located among hundreds of sculptures by Bourdelle and others from the19th Century.

The fountain of Medicis welcomes romantic couples, inebriated from the essences of the flora. Borders and flowerbeds contain wallflowers, dahlias, salvia, as well as orange trees and various exotic trees.
Have a rest in the shadow of a chestnut tree, a plane tree, or a lime tree by sitting on one of the famous green chairs, but mind the "Orangerie du Luxembourg" bee hive! However, if bees inspire you, take theoretical and practical beekeeping lessons.
These are all reasons why this garden is the best choice for a sunny day`s walk.

Author : Amandine©

Nearest hotels - Jardin du luxembourg :


(Distance < 1 km)rooms ranging from
: 89.00 Euros
Info:
A 19th-century building located a 2-minute walk from the Garden of Luxembourg, in the heart of the Latin Quarter, Elysa-Luxembourg offers soundproofed rooms decorated in contemporary style.
All rooms at the Hotel Elysa-Luxembourg are......



(Distance < 1 km)rooms ranging from
: 150.00 Euros
Info:
Located between the Latin Quarter and Saint-Germain-des-Près, Le Senat hotel is just opposite The Luxembourg Gardens. It offers a bar and a reading room with armchairs and sofas.
Decorated in neutral tones, the rooms at Le Senat are......



(Distance < 1 km)rooms ranging from
: 69.00 Euros
Info:
Located 100 metres from the Jardins du Luxembourg and a 5-minute walk from the Panthéon, this hotel offers a 24-hour reception and en suite rooms with free Wi-Fi.
Sigmund Freud once lived in the building where Hotel du Brésil is now......



(Distance < 1 km)rooms ranging from
: 105.00 Euros
Info:
The Luxembourg Gardens are 200 metres from Le Clos Medicis in Paris' Latin Quarter. It has air-conditioned rooms with free Wi-Fi and flat-screen TV offering 25 channels.
Guest rooms are double-glazed and some have views of the Clos......


(Distance < 1 km)rooms ranging from
: 280.00 Euros
Info:
Located opposite the Odéon Theatre, this two-bedroom apartment offers a view of the Luxembourg Gardens, 300 metres away. With a contemporary décor, it provides free Wi-Fi and a spacious kitchen.
An LCD TV features in the living room,......