Hotel des invalides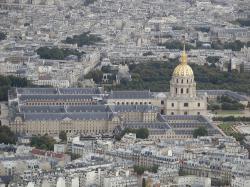 Description
Esplanade des Invalides
75007 Paris

The « Hotel des Invalides » was built in 1671 under the influence of King Louis XIV. He desired it to be a place of rest and cure for his wounded soldiers.
The building and the courtyard were built by Libéral Bruant and finished in 1676. The hotel gave shelter to 4 000 ex-soldiers. The very same year, a minister of the king ordered the construction of the church "Eglise annexe" Saint Louis. The architect of the church was Hardouin Mansart. The king and his court used the dome, while the other part of the church was reserved for the soldiers.
In 1840 King Louis-Philippe asked for the repatriation of Napoleon's remains.
Since this date, the dome is Napoleon's mausoleum and contains the tomb of other famous military leaders, such as Vauban, Foch, Turenne…
Various museums are now present at The Hotel des Invalides :
-->The museum of the Army.
-->The museum of « Plans-reliefs ».
-->The museum of Liberation.
-->It contains a modern hospital as well.

Author : Bérengère©

Nearest hotels - Hotel des invalides :


(Distance < 1 km)rooms ranging from
: 285.00 Euros



(Distance < 1 km)rooms ranging from
: 95.00 Euros
Info:
Le Pavillon hotel is set in a former convent and is located in the heart of Paris' 7th district in the Saint-Dominique area. It is just a few minutes' walk from the Tour Eiffel and Les Invalides Museum. The rooms offer exposed stone and the property......



(Distance < 1 km)rooms ranging from
: 162.00 Euros
Info:
Located in Paris's 7th arrondissement, just a 15-minute walk from The Eiffel Tower, this hotel offers rooms with an iPad and free Wi-Fi access. Guests can enjoy French cuisine in the hotel's stylish restaurant.
The air-conditioned guest......



(Distance < 1 km)Info:
A 15-minute walk from the Eiffel Tower and 200 metres from Les Invalides, the Champs de Mars and Pont Alexandre III, Hotel Saint Dominique is a former 18th century convent with individually-decorated rooms opening onto a floral patio. Invalides RER......



(Distance < 1 km)rooms ranging from
: 365.00 Euros
Info:
Housed in a 19th-century private mansion, this hotel is a 3-minute walk from the Champs-Elysées and 200 metres from the River Seine. It offers free Wi-Fi, spacious rooms with rich fabrics and a restaurant with a bronze chandelier.
All......