Opera garnier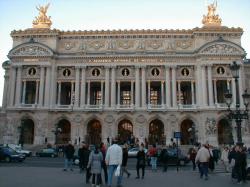 Description
8 rue Scribe
75 009 Paris


This Baroque style building was ordered by Napoleon the Third. The architect Charles Garnier encountered many difficulties during the construction, which began in 1862, due to the presence of a lot of ground water. Because of these technical problems, the monument was erected only in1875.

The ghost of the opera (le fantome de l'opéra) from Gaston Leroux would later be performed In this underground setting.

The dimensions of this opera are impressive: 172 metres long, 101 metres wide for a total surface of 1 100 square metres. The architect mixes Baroque and Renaissance styles. The outside walls are ornamented with 7 archways, decorated with two marble columns, sculpted statues, allegorical sculptures, and two tall statues of golden colour.

The "Opera de Garnier" was built to fulfill the needs of the 19th century high society.
The inside part is also very impressive. The main stairs are decorated with marble, and the roof is equipped with lots of crystal chandeliers, among which a luxury one can compare with the one of Versailles.
The red and gold coloured room can contain 2 130 spectators. The magnificence of the Opera de Paris is represented by the auditorium chandelier whose weight is about 6 tons.
In 1964 André Malraux asked the painter Marc Chagall to decorate the large roof.
Its paintings represent famous operas and ballets.
In 1985 the Opera was renamed "Palais de la Danse". Since the Opera de la Bastille was built (1989), the Opera Garnier is mainly showing ballets.

Author : Bérengère©

Nearest hotels - Opera garnier :


(Distance < 1 km)rooms ranging from
: 300.00 Euros
Info:
Intercontinental Paris Le Grand is located just 30 metres from the Opéra Garnier and Opera Metro Station. It offers 2 restaurants and a health club with sauna and massage treatments.
Guest rooms at Le Grand are equipped with satellite......



(Distance < 1 km)rooms ranging from
: 240.00 Euros
Info:
This 5-star hotel is situated 200 metres from the famous Opera Garnier and 500 metres from luxury shopping in Place Vendome. It offers guests free access to a fitness centre and a spa with hammam and hot tub.
The stylish rooms offer an......



(Distance < 1 km)rooms ranging from
: 216.00 Euros



(Distance < 1 km)rooms ranging from
: 91.00 Euros
Info:
Located just 200 metres from the Opéra Garnier and a 10-minute walk from The Louvre, this air-conditioned hotel offers rooms with a TV and free Wi-Fi access. The hotel is situated 500 metres from Galeries Lafayette department store.



(Distance < 1 km)rooms ranging from
: 144.00 Euros
Info:
Hotel Maison Athénée is a 4-star boutique hotel decorated by the famous, French interior designer Jacques Garcia and located in central Paris. Offering a bar and a lounge, it is a 5-minute walk from both Place Vendôme and the Opéra Garnier.