Square vendôme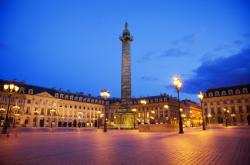 Description
Place Vendôme
75001 Paris

The 43.50-metre-high column Vendome is located at the North of the Jardin des Tuileries. Both the column and the place Vendome have a rich history, and it is here that one can find the finest luxury hotels, shops, and jewellers.

This square, historical witness, wore many royal statues. At the beginning the centre of it was occupied by a statue of Louis XIV dressed as a roman emperor.
Named square Louis Le Grand, then square des Piques under the Revolution, it now holds the name of the mansion of Vendôme, destroyed in 1687.

The square of the 18th Century was completed with luxury hotels equipped with columns, and arches. Vendôme became more luxurious than the Place des Vosges or the Marais and was occupied by accomplished men working in finance.

Napoleon ordered a column in memory of his soldiers of Austerlitz. It was put in the place of the statue representing the king, and a statue depicting Napoleon dressed in roman Emperor was installed over the column. But it could not resist the changings of governments forms, and this statue was replaced by one of King Henry IV, and later by a lis flower under the reign of King Louis-Philippe.
However, the statue of Napoleon was later reinstalled in the square.

Since 1992, the pedestrian space is delimited by grey granite paving stones.

Author : Amandine©

Nearest hotels - Square vendôme :


(Distance < 1 km)Info:
Hotel de Vendome is located on Place de Vendome in the heart of Paris. It offers elegant rooms and suites with rare, marble bathrooms and decorated with antique furniture.
All of the spacious and luxurious rooms are air-conditioned and......



(Distance < 1 km)Info:
Lit bébé, Lit enfant, Terrasse privative, Réveil, Radio-lecteur CD, Coffre individuel, Sèche-cheveux, Climatisation, lecteur DVD, Câble/satellite, Canal+, Télévision, Mini-bar, Accès internet, Téléphone ...



(Distance < 1 km)rooms ranging from
: 230.00 Euros
Info:
The Hotel Lotti is located between the Place Vendome and Tuileries Gardens, in central Paris. It offers free Wi-Fi and a private, open-air courtyard. Spacious rooms feature luxurious décor and furnishings.
All guest rooms feature either......


(Distance < 1 km)rooms ranging from
: 925.00 Euros
Info:
Located in Paris city centre, Mandarin Oriental, Paris is a 1930s palace hotel located in a historic building from the 30s. It offers an indoor landscaped garden, a 900 m² spa area and a gourmet restaurant awarded with 2 Michelin stars. It boasts a......



(Distance < 1 km)rooms ranging from
: 170.00 Euros
Info:
Located in the heart of Paris, the Royal Saint Honore is just 600 metres from The Louvre Museum and 170 metres from Le Jardin des Tuileries. This 4-star hotel offers soundproofed guestrooms and suites with free internet access.