The french national libraby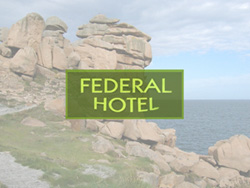 Description
Timetable :
Upper garden: opens from tuesday to saturday, 10 a.m. to 8 p.m.
On sundays from 12 a.m. to 7 p.m.
Garden floor:
from tuesday to saturday, 9 a.m. to 8 p.m.

In 1987 the members of the government asked for a second national library
according to a national report which stated the congestion of the first national library. The President Francois Mitterrand engaged himself in creating "the largest and the most modern library on Earth". This incredible project aimed to offer the total knowledge to all kinds of public (scientists and individuals) via all kinds of modern data transfer and distance consultation.

The chosen site was Tolbiac, on the left bank of the Seine above the Austerlitz
train station. An international competition was organised to select the architect. The President of the jury, Leoh Ming Pei, to whom we owe the Pyramide du Louvre, declared Dominique Perrault's project to be chosen.
The buildings represent four opened books with a view on the central garden from the terrace and from the reading rooms.
The total surface is of 250 000 square meters. Each of the four towers has a name : the tower of Numbers, of Laws, of Letters, and of Time. Inside the towers there are offices and bookshops.

The first two floors welcome individuals and scientists with general reading rooms and special ones reserved for scientists.
480 000 books, 100 000 scanned books, and 28 000 multimedia documents are accessible… you`re sure to find the book that fits you!

Website
Author : Amandine©

Nearest hotels - The french national libraby :


(Distance < 1 km)rooms ranging from
: 99.00 Euros
Info:
The Mercure Paris Austerlitz Bibliothèque is situated in Paris, 350 metres from Bibliothèque Nationale de France and 300 metres from Palais Omnisports de Paris-Bercy. It offers views over the River Seine.
Each air-conditioned and......



(Distance < 1 km)Info:
This hotel is located opposite the Palais Omnisport de Bercy, 200 metres from Bercy Metro stop and 500 metres from Gare de Lyon train station. It offers free Wi-Fi access.
The soundproofed guest rooms at the ibis Styles Paris Bercy have......



(Distance < 1 km)rooms ranging from
: 120.00 Euros
Info:
This hotel is situated just a few metres from the Bercy Metro stop and a 10-minute walk from the Gare de Lyon Train Station. It offers spacious and modern rooms.
The guest rooms at the Novotel Paris Bercy have an elegant décor and are......



(Distance < 1 km)rooms ranging from
: 95.00 Euros
Info:
Situé à 5 minutes de la Grande Bibliothèque François Mitterrand, l'hôtel bénéficie de l'animation du quai François Mauriac qui accueille de multiples salons de thé, péniches guinguettes. Sur l'autre rive, le nouveau village de Bercy, accessible par la ...



(Distance < 1 km)rooms ranging from
: 85.00 Euros
Info:
This hotel is located on Paris's left bank, a short walk from the Seine River and 100 metres from the Bibliothèque Metro Station. It offers air-conditioned rooms with free Wi-Fi.
Each room at the ibis Styles Paris Tolbiac Bibliotheque......