Tourist information:

The city of Marseille, second city of France, is the metropolis of the Mediterranean basin. This city, founded in 600 BC by sailors from Phocaea in Asia, enjoys a rich and remarkable historical, cultural and architectural history. Also rich with high accessibility and warmth of life of its own, Marseille has everything to offer a good time to its visitors.


Marseille heritage is exceptional for its diversity : the Old Port, the calanques, the Arc de Triomphe, If castle, Notre-Dame de la Garde basilica, Longchamp Palace are all monuments of different periods and styles. A delight for history lovers.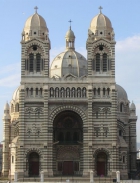 From the perspective of culture, Marseille is no exception. The city has twenty museums related to all historical periods, from the Museum of Mediterranean Archaeology to the Fashion Museum, from the Museum of Fine Arts to the History Museum of Marseille. Marseille has also earned the title of European Capital of Culture for 2013.

Since 1998, the city of Marseille has also been focusing its strengths to attract business tourists. For this, it has a Convention Bureau and is positioned as a major city for trade fairs and congresses.

In addition to the heritage, it is people who make it is Marseille. Generous and hospitable, they are the guarantors of the many traditions of the Phocean City, soap city and birthplace of the santons. All year long, the city of Marseille proposes to participate in numerous events such as Carnival, the Estaque jousts , the Saint Eloi or the Feast of the Windward and the santon fair.

Travels in Marseille are easy thanks to its network of public transport: Metro, bus and tram. It is also easy to travel to Marseille as the city has an international airport with a low-cost terminal, a train station and three highways from Spain, Italy and northern Europe that intersect near Marseille.

Marseille is a city that is both historic and modern, where life is good!